Student Success Story
Student Travels with Akbar Ahmed on Journey into America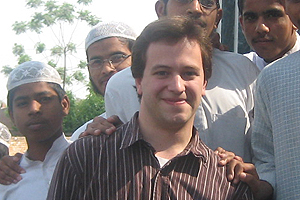 My journey began with an honors class—and a brilliant teacher. Akbar Ahmed, Islamic scholar and Pakistan's former ambassador to Great Britain, made one thing clear in his honors interdisciplinary colloquium, "Dialogue or Clash of Cultures": the need to improve relations between the United States and the Islamic world.
Inspired, I wanted to be part of the effort and offered my services as an assistant to make it happen. To my surprise, Ahmed invited me to join him on a trip across the Muslim world. That trip would result in a book, Journey into Islam: The Crisis of Globalization.
We met with students, scholars, and imams—even Pakistan's then-president, Pervez Musharraf. And we asked the same question: what is the greatest threat to the Muslim world? Again and again, we heard the same answer: negative perceptions of Islam in the United States.
Was it true? And how were Muslims living in a post 9/11 America? Last September Ahmed took a sabbatical to find out. He launched Journey into America, an unprecedented study sponsored by AU. Once again, I accompanied him on the road as his research assistant.
We're now in our seventh month and have visited more than 70 American cities and 100 mosques. We've interviewed political and religious leaders, scholars, and educators, from Jesse Jackson and former Missouri governor Bob Holden to Sheikh Hamza Yusuf to Noam Chomsky and AU president Neil Kerwin.
The project so far has given me a greater appreciation for both Islam and America. I've glimpsed the striking diversity within America's Muslim community, from St. Louis's Bosnians to San Francisco's Afghans. Misunderstandings exist between Muslims and non-Muslims, but I have seen these dissipate with interaction and knowledge. We hope that our forthcoming book and documentary film, both based on our fieldwork, will inform and encourage dialogue and perhaps contribute something lasting on a global level.
I remain grateful to AU and the University Honors program, where all this began for me. Journey into America will end but I know now that my journey, my work, will continue.