Alumni Success Story
Profile Ben Edgar, SIS/BA '11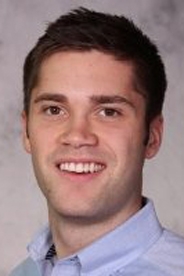 What was one important turning point during my time at SIS that influenced my professional path?
One session I had with David Fletcher his junior year. I was deciding what to do with my life, considering a bunch of different fields, and David told me to go to career fields. Having him push me to talk and connect with people was a big turning point. Especially meeting with the Deloitte, they're really active and exciting, so interacting with them, seeing how they challenge themselves, that was a turning point.
What has been a pivotal piece of knowledge that has led me to my current position?
Going through your major, you're not really sure, but by junior year, you're focused on your major. With a degree like international relations, where you learn so many different things, economics, politics, a language, there are so many ways to translate that information in a lot of different ways. Deloitte capitalized on that, and on my ability to learn quickly and well, so I could do well in the business and consulting arena. Once you're there, you're only a step away from your major. My realization was that after your first job after school, you're not tied to your major forever. Skill sets are translatable. Interests change.
Why SIS?
Coming from Massachusetts, I wanted to experience a different part of the country. I really liked American as a school, and liked the SIS program. It's highly ranked, has a lot of really interesting courses, and it came down to a combination of geography and the prospect of being challenged in the classroom.
What courses stood out for you?
Between junior and senior year, I took three classes that stood out: International Terrorism – fascinating to read about these cases and terrorism throughout history. Looking at past examples was really great! Another course: Cybercrime, espionage and war crimes – that class stretched my limits going really technical into computers, and how to prevent computer hacking and spying, firewalls, etc. and looked at the political side to everything, what political implications they held, the faculty member was an advisor in the white house. Another course: Eastern Religion – a gen ed course that was great. Getting to read about Taoism and expanding my knowledge base on things I wouldn't have had the opportunity to study otherwise.
How are you making a difference in the world?
I got involved at Deloitte with the Wounded Warrior Mentorship program. I chose to work with a group of veterans who served in the past 10 or 15 years. We paired up with people from Walter Reed hospital in Bethesda and provided professional mentoring relationships for Wounded Warriors, who might have a hard time getting contacts, resumes, connections, or even folks who hadn't been to college, getting those resumes/applications ready. My own mentee was in that situation, and helping him apply to various colleges was a great part of my job at Deloitte. Now I am trying to see if I can continue working with the Wounded Warriors out in the Seattle area.
What world issue are you interested in?
War in Afghanistan/Pakistan. Just because I'm connected with the Wounded Warriors. It hasn't been talked about a lot in the news lately, and to be honest, the number of wounded warriors coming back is less and less, which is great, but I keep my finger on that the most.
Who is your professional role model?
A manager at Deloitte on my last project was the first manager I had that struck a balance between knowing the projects/material and managing at a higher level as well. That's a really difficult balance to strike, being high above everything, but also down in the weeds. He really did that well, and outside there were other things, but that's something I really want to take with me.
What's your favorite book?
The Heart and the Fist by Eric Grytons – He was a Navy SEAL for a number of years, and grew up and went to Oxford for grad school. Was an accomplished boxer there, a smart guy. He talks about the difference between international diplomacy and what you can do by avoiding physical action and using diplomacy, but also what is needed and what is necessary in brute force. It makes you think on multiple levels in that regard, and that was a book I read really soon after I graduated. It still gets me thinking about our servicemen, and our diplomats, and how they balance the political sphere in everything they do.