Alumni Success Story
Discovering Washington's Lost River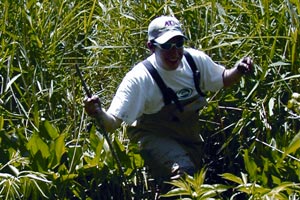 If you don't know the health of the Anacostia River, Evan Ewers, MS biology '07, would be the first to tell you: don't swim, don't fish, don't drink. Pollution has led the Anacostia to inherit the ominous title of "D.C.'s forgotten river," as it flows behind the Capitol building and through some of Washington's poorest neighborhoods.
But Ewers certainly has not forgotten. This recent graduate is working to save this once naturally clean water source—with a little help from some very tiny friends.  
Ewers aims to restore the river's health through bioremediation, a process that uses bacterial organisms to return an altered environment to an improved ecological state. His work has focused on two specific types of carcinogenic pollutants: polycyclic aromatic hydrocarbons (PAHs) and monocyclic aromatic hydrocarbons (MAHs). By examining the wide range of bacterial species within the river, Ewers was able to find bacteria that essentially "digest" the pollution by naturally breaking down the PAH and MAH compounds and using the smaller compounds formed for food.  
Ewers also investigated the genetics of the sediment samples to determine if any known PAH degradation genes were present. In 2006, researchers discovered the tmoA gene in bacteria, a gene capable of degrading MAH compounds. For Ewers, the logical assumption was that a similar gene could exist for the degradation of the PAH compounds. By using a process called polymerase chain reaction, he amplified specific isolated sequences in bacterial DNA and found three major families of PAH-degrading genes represented in the Anacostia bacterial populations. Results from the specific river sites point toward a great potential for these natural-born microbial communities to assist in removing at least some of the pollutants from the river bottom.  
Ewers firmly believes the Anacostia River can still be saved. Although the river had been largely ignored in the past, Ewers reports a recent groundswell of private and public support for cleanup efforts in and around the Anacostia. "This helps us because we can test areas of the river's sediment, make partnerships with other research institutions, and work to revitalize a river that should really be seen as a national treasure," he says.  
Adapted from "Bacteria, Bioremediation, and Discovering Washington's Lost River" by Jordan Maidman, Catalyst, Fall 2009.