Student Success Story
Junior Finds Ideal Rhythm in Joint Program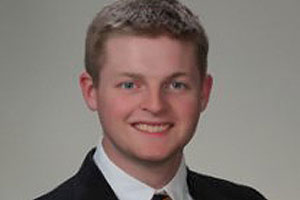 Geoff Malloy says that American University's business and music (BS-BAM) degree was a natural fit. "Business made sense, and music was something I was always interested in," Malloy explained of his decision to enroll in the program.
The Business and Music program is currently in its first full year as an undergraduate major at the Kogod School of Business. It combines the two core business and music programs with a series of for-credit internships to prepare students for careers in the music sector.
Although he had to leave the position in December, for almost a year Malloy received real-time experience in the field through his work with SideFx Partners, LLC, a music label in Georgetown founded by a band of the same name.
Malloy went from tasks such as managing the band's MySpace page to working gigs and acting as personal assistant to SideFx founder Kim Cameron.
"I'm active at shows, I hire actors and actresses for music videos, and right now I'm setting up the band's winter tour," Malloy said. "It's no longer just an internship, it's a job."
"The required internships accomplish the goal of pulling the classes together and mixing business and music," Kogod Director of Undergraduate Programs, Jesse Boeding, said. "Because it is such a huge industry and there are so many different niches students can do, an internship gives them the flexibility to explore further," Boeding said.
With his foot already in the door, Geoff plans to continue his career in the music industry after graduating from AU.
"I don't want to start in an office and end in an office. I want a faster lifestyle," Malloy said.
Planning first on moving from Washington, D.C. to New York or Los Angeles, Malloy wants to pursue a career in drumming. He is also interested in management and would like to work in the talent division of a record label as a road manager or a scout – proving that not all business is serious business.
Malloy is currently taking the spring 2010 semester off to hike the Appalachian Trail.