Alumni Profile
Lonnetta Ragland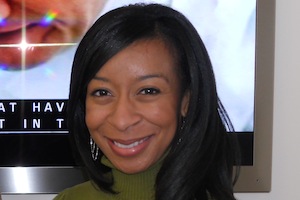 Lonnetta came to the IC Program with a background in mass communication and political science, earning her BA from Dillard University. While at SIS, Lonnetta balanced working at Fleishman-Hillard, a PR and communications firm, with a full course load that explored her wide-ranging interests in international communication, development, and global health. She attributes her success to time management and discipline, which enabled Lonnetta to map out weekly schedules that she was able to stick to. Her international experience began with a regional immersion program in France, and she went on to volunteer in Haiti for a health communication program and completed the SIS summer program in South Africa.
Lonnetta worked for Fleishman-Hillard from 2004 to 2010, working her way up from an internship to Managing Supervisor. She left the firm to take on an exciting role at Pioneer Hi-Bred, a DuPont business involved in the agriculture sector. In her current position, Lonnetta serves as U.S. and global media relations contact in addition to leading global communications efforts for two of the company's agricultural development initiatives focused in Africa, and supports external relations and stakeholder engagement efforts. In these roles, her duties included developing message strategies, addressing external affairs issues, prepping company leaders and speech writing, and integrating media technology into the company's internal and external communication strategies.
Looking back at her time in the IC Program, Lonnetta regards it as a perfect fit. Here she could blend her diverse interests into a cohesive program that was firmly rooted in international communication but expansive enough to allow her to branch into related subjects. Working now in the private sector for an agriculture firm, Lonnetta applies the theories and frameworks she studied at SIS to complex challenges related to agricultural development.
For example, she addresses the question of how do you get small farmers to start the planning now for the future food security demands? Lonnetta argues that you need to spread awareness of the problem and the wide array of impacts food insecurity has on societies. The ability to impact behavior today requires knowing the cultures and sub-cultures of your target audiences, framing your message appropriately based on that knowledge and using effective technologies to deliver the services.
When asked about what advice she would give current students and soon-to-be graduates, Lonnetta offers this strategy. Pinpoint some of the top organizations in the field that you are interested in working and insert yourself there. That might mean attending events where it is possible to rub elbows with practitioners in that field, taking advantage of DC to conduct informational interviews, and reaching out to those organizations to show your interest. And, she adds, be amenable to "no"; when you hear it, just move on to the next person or organization on your list.
Lonnetta's unique blend of international and domestic experience, as well as the skills and perspectives she gained at SIS have launched her career. Her talents and demonstrated ability to implement the skills she learned in the class room make Lonnetta a success in the burgeoning field of food security and international communication.