Essay on Personal, Cultural Topic Leads to Publication for SIS Sophomore
By Annie Lyon, CAS/MA '03
June 18, 2010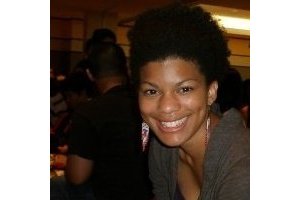 Jennifer Chisholm, SIS/BA '12, doesn't really consider herself a writer. Yet there was one assignment her freshman year at American University that inspired her to pick up her pen – and, a year later, led her to become a published author.
Chisholm's essay, "The Hair Weave and Its Implications for the Self-Image of African-Americans," was published in the Summer 2009 issue of The Collegiate Scholar. The paper stemmed from an assignment for her first-year College Writing class under CAS writing instructor Lacey Wooton-Don.
"One of our major writing assignments was to write about something dealing with popular culture," Chisholm recalls. "Being one of the few, if not the only African-American in the class … I figured that I would write about something that I was very familiar with, but that others in the class may not know much about": African-American hair. Professor Wooton-Don encouraged Chisholm to enter the piece in a campus-wide essay contest, and, eventually, to the journal.
The sophomore, concentrating in International Economic Relations (with a possible interdisciplinary minor in Black/African-American studies) keeps a journal, and writes in it regularly, but confesses that she does so "mostly … for emotional purging purposes." But the possibilities of this assignment to make the popular personal brought out the passion in Chisholm's pen.
"I just wanted to convey that things like perms and hair weaves can be detrimental to black people's self-esteem because they are generally seen as necessities—as if our own hair is not good enough," Chisholm explains. "I think that it is difficult for the black community to demand respect and equality from others if we can't find it in us to respect and value ourselves as we are."
She continues, "I hated the fact that I felt like I needed a perm (another word for hair relaxer) in order to look acceptable. So I cut it all off. Oftentimes I feel that wearing my hair in its natural state is a sort of constant social rebellion, so the piece does have deep personal meaning for me."
Chisholm has a few years before she has to consider her future after SIS. She currently plans to attend graduate school and eventually become a member of the State Department or Foreign Service. But no matter where life after American University takes her, she plans to keep writing.