Faculty Success Story
Professor Susan Shepler Returns from Research Sabbatical in West Africa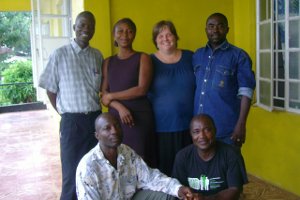 IPCR Professor Susan Shepler spent the 2009 spring semester in West Africa conducting research on the long-term impact of the training of refugee teachers. Do they contribute to rebuilding postwar education systems in their home countries?
Several thousand teachers from Sierra Leone, Liberia, and Côte D'Ivoire were trained to staff schools in refugee camps in Guinea. Now that these countries are officially at peace, most have returned home. It is hoped that these refugee teachers will be able to now contribute to the reconstruction of their countries' devastated educational infrastructures.
Shepler's team of six local researchers from Sierra Leone and Liberia interviewed over six hundred former refugee teachers to try to understand how easily they had made the shift from teaching in refugee schools to working in schools in their home countries. They asked questions like "Why do you teach?" or "Why have you left the teaching field?" and "Have you used your teacher training in other ways in your community?"
The greatest challenge of the research, Shepler reports, was the lack of information about the current location or even total number of former refugee teachers. The team conducted a "tracer study" by tracking as many of the former teachers as they could find, using informal networks and word of mouth.
Starting with just a few names in each country, they were able to locate hundreds of people to interview by asking for friends of friends and by following rumors about where former colleagues had resettled. This required a great deal of collaboration and communication within the team.
"The whole project was a big cross-border detective story," Shepler said.
The final report is still being drafted, but some preliminary conclusions are that women, in particular, still face huge challenges working as teachers, including sexual harassment by superiors. The team also found that a majority of the refugee teachers are still dedicated to educating their country's youth, even though the pay is small and some of them have not been paid by their governments for several years.

Professor Shepler returned to the classroom in the fall of 2009, teaching Conflict in Africa and the Research Seminar in Peace and Conflict Resolution. Next spring, she will draw on her research and another area of her expertise with a course on Youth and Conflict.

This story was originally published in the September/October 2009 IPCR Newsletter.