Learning in the Community
By Nora Cobo
January 21, 2010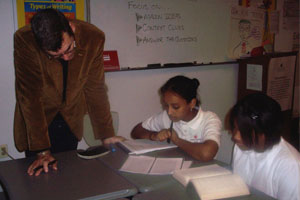 Students in Professor Glenn Moomau's College Writing Learning Communities course are not just learning to improve their academic writing skills. They're putting those skills to use in the community at Center City Public Charter School's Shaw campus both by working directly with students and supporting the school's administration.
The course, entitled "Reinventing D.C. Public Schools," focuses on the District's innovative charter school program and enlists seven AU freshmen to assist the charter school's seventh grade with their afternoon reading program. Professor Moomau's students hop on the Metro every Wednesday for Center City's campus in the heart of the historic Shaw neighborhood. The charter school, now in its second year of operation, serves elementary and middle school students from the District's Ward 2. 
On top of working one-on-one and in small groups with the seventh grade reading program, Professor Moomau's students have also worked in the front office, thus relieving the school's administrative staff, who themselves each play a variety of roles in Center City's day-to-day function. As part of the course's community service learning component, the students have been tasked by the Center City Shaw's principal to compile data about the school and the surrounding neighborhood. 
Professor Moomau explained that "this document, in digital form, would be an easily-accessible database for the school's administration to use for annual reporting, fund raising, and publicity." The students have "interviewed faculty, staff, and students; they've gathered demographic details about students; they've incorporated the school's curriculum and mission statement; they've done research on the Center City school history, as well as the history of the neighborhood; additionally, they've documented this work with photographs." 
Through this community-based form of learning, Professor Moomau's students have had the opportunity to improve their own writing and research skills through the practical application of composing the research document. The added benefit of this project is that they must negotiate with their community partner—the charter school—in creating and revising this project for an audience outside the traditional college classroom.