Alumni Success Story
Energetic Alumni Board Member Fueled
by AU Experience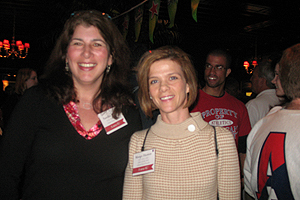 One thing that Margo Herron, SPA/BA '85, KSB/MBA '03, never learned at AU was how to slow down. A typical day for her may include a trip to the Department of Health and Human Services for her job as director of regulatory policy at Bristol-Myers Squibb; an AU Alumni Association Board meeting; an afternoon coaching her son Ben's soccer team; or a trip to Jacobs Field to watch AU's top-ranked field hockey team.
This schedule seems only natural for Herron, who pulled off an equally hectic load with the same ease as a student. She identifies her four years on AU's field hockey team and her internship with U.S. Rep. Bob Edgar (D-PA) during the early- to mid-1980s as the two experiences that most shaped her while an AU student.
AU's commitment to a diverse and international experience is what brought Herron back 15 years later for her second degree at Kogod. Today, she continues to be inspired that "You can stand on the quad and talk to people from so many countries and nearly every state in the U.S."
While Herron's campus involvement was plenty satisfying, it couldn't keep her from the vast opportunities of going to school in the nation's capital. "The real-world education really made the difference for me," says Herron of her Capitol Hill internship experience.
Working for Edgar proved to be a lasting connection for Herron that put her education, career goals, and involvement with AU into perspective. "The internship allowed me to see and participate in what I was learning in class and that made all the difference in the world," she says. 
Herron's internship and reputation as a team player led to a job on Edgar's senate campaign immediately following graduation. While politics did not become her life's work, the campaign experience renewed her commitment to stay in the D.C. area – and close to AU. 
Her time at AU experience has proved invaluable in another way: friendship. She's kept in touch with fellow field hockey teammates and alumni throughout the years, and now she's giving back.
"The only way to properly thank AU for what it provided me is to ensure that AU is recognized for the outstanding education and experience it provides its students." Besides her service on AU's Alumni Association Board since 2006, she also has been a loyal Eagle's Club supporter and has been instrumental in a number of Athletics department initiatives.
The more Herron has worked with alumni, the more she's seen that, "AU graduates are passionate. Looking back, we recognize that we received an excellent education and lots of opportunities that prepared us for the real world."
Despite the fact that her board term will be up in 2010, Herron plans to keep coming back for many years to come.