International Success Story
Jeremy Dastrup, SIS/MIS '11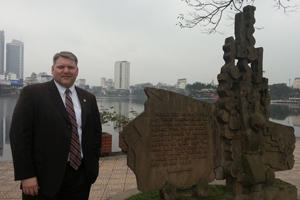 Why I Chose MIS:
As a mid-career government employee I needed to find a program with an extensive selection of core and elective courses which would permit me to tailor my degree to my career needs. The MIS program gave me the latitude within my degree to become intimate with the subject matter which I knew my career was going to expose me to. I knew the MIS program, and American University, was the best choice for me when I selected it, but I did not fully realize how perfect a fit it was until I completed my degree and started to apply what I had learned to my career objectives.
How I make a difference in the world:
I interact with foreign government officials on a daily basis. I strive to understand their perspectives and needs. At the same time I am able to represent the United States in a positive light, helping to break down perceived cultural barriers. I give people from different walks of life a positive impression of what America is. This in turn facilitates mission success for me and the United States government.
How MIS has made a difference in my world:
My degree has provided valuable understanding of the underlying political, cultural, economic, and security developments within Southeast Asia, which have enhanced my ability to interact and succeed throughout my career in this region of the world. The principles I learned during my MIS experience, along with the high caliber of instructors and students, are something I reflect on daily and help to shape how I work in the world.
Field of Study:
Southeast Asian Security Issues
Languages:
Spanish and Malay
World issue of interest:
Security issues dealing with Southeast Asia and more specifically the South China Sea to include territorial disputes. How the economic growth of China and other Southeast Asian countries are straining stable security relations in the region and ultimately how that subsequent strain affects the military mission of the United States.
Favorite movie:
Any romantic comedy because it allows me to laugh and spend time with my wife after a long day.
Current residence:
Singapore