Student Success Story
UBA President Seized Every Opportunity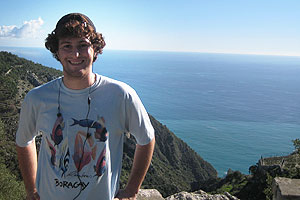 Alex Feld (BSBA '10) has taken advantage of the lion's share of opportunities that American University's Kogod School of Business has to offer.
Feld is wrapping up his senior year with a degree in Business Administration and minors in Information Systems and Technology and Marketing. He's lucky – and driven – enough to have secured a job at financial giant Freddie Mac, where he is working part-time until he graduates in the spring.
He's also president of the Undergraduate Business Association, a position he lobbied for while studying abroad in Nice, France.
Feld actually spent both semesters of his junior year studying abroad, first at the Chinese University of Hong Kong, an AACSB-accredited school where he took core business classes alongside students from a myriad of countries in Europe and Asia.
He was the only Kogod student in the program; when he landed in Hong Kong, the only directions he had to guide him were from the airport to campus.
"I was really looking for a culture shock experience," he explained. "Something that put me outside my comfort zone."
On New Year's Day 2009, Feld flew to France for the start of his spring semester in Nice. After three days of searching, he and his roommates managed to find an apartment – without speaking any French.
Kogod's partnership with the Euro American Institute of Technology, which is part of the French CERAM Business School, allowed Feld to choose between core and elective business classes that are taught in English in a prime location: the French Riviera.
While abroad, Feld visited an enviable list of countries, including the Netherlands, England, Belgium, the Philippines, Thailand, and China.
He also drummed up support for his bid for the UBA presidency through Facebook, promising to increase the number and quality of events on campus and to encourage input from all business students.
He submitted his resume on CareerSource while in France for the internship program at Freddie Mac; since an in-person interview was out of the question, he arranged to interview by phone over Skype while in his pajamas.
Upon his return to the United States, he spent only one week at home in East Brunswick, New Jersey before returning to DC to start in Freddie's corporate compliance division. "I made zero photocopies while I was there," Feld said. "It was an incredible program."
It was also great timing; Feld was present during a major company overhaul.
"Freddie Mac changed its mission while I was there -- something I saw from the beginning to the end of my internship program."
For now, Feld is focused on following through with his promise to keep the UBA on track by supporting other clubs and following in the footsteps of former President Justin Bridges, who, according to Feld, "made the UBA what it is today."
From the Washington Initiative service learning class to the Road Scholars trip to programs at the Kogod Center for Career Development, Feld hasn't missed out on much during his time at AU.
"I do my best to represent Kogod," Feld said. "And I've tried to take advantage of what Kogod has to offer."