Alumni Success Story
Shaping Sociology's Research at the National Level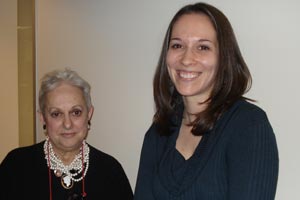 The Department of Research and Development (R&D) of the American Sociological Association (ASA), in Washington, D.C., has a few familiar faces from AU's Department of Sociology. Director Bobbie Spalter-Roth, PhD sociology 1984, and Research Associate Nicole Van Vooren, MA sociology 2006, have worked together at ASA for over three years now. They implement projects funded by several National Science Foundation grants that evaluate social networks among faculty, department issues, and longitudinal data on Bachelor's and Master's graduates. Spalter-Roth hopes to continue a longitudinal PhD study and manages a team of three including Van Vooren. 
Proposal writing is an active component of their development work, especially for Spalter-Roth, and it supports their work on longitudinal and other studies. Because their research agenda is to provide information for sociologists about, trends in undergraduate and graduate careers, or work, life, and gender patterns in academia, for instance they also process weekly requests from faculty across the country that can help them with recruitment, requests from Deans, and program assessment.
Spalter-Roth fondly recalls her AU experience. "I really benefited from that program," she says. "I took three Marxist seminars, and a Weber seminar, and [back then], Marx was someone you read. I went back to graduate school, after 10 years in the workforce, because I realized that I was never going to be a Principal Investigator on a research project without a PhD. I chose AU because I did not want to move out of the area; it was a department with senior women faculty, and I received an assistantship. After receiving my PhD, I started teaching in the George Washington University Women Studies Program. After several years as an assistant professor at AU, I decided that I wanted a research-only position, and began a 10-year stint as Research Director at the Institute for Women's Policy Research."
Van Vooren adds, "My methods courses at AU helped me the most in my transition into this job. Learning research methods and becoming familiar with [computer] software was useful. And, I got to see discussions at AU about how to professionalize sociology at the MA level, since I was in the first MA-only cohort after AU stopped offering the PhD." 
Since she took her position in 1997, Spalter-Roth has collaborated with the Commission on Science and Technology (as the outgoing president), the Association of Public Administration and Management, and the research component of the Pew Foundation. Their R&D department makes sociology relevant for other professionals outside the field.
Van Vooren is primarily in charge of the follow up on Bachelor's and Master's projects as well as doing statistical analysis for other projects. Together, they have written research briefs on various proposals. Information can be found on their research Web page or their research blog.
Among their future projects, they plan to do a job bank follow up study where they evaluate the impact of the recession on available jobs for sociologists. Spalter-Roth concludes: "I think one of the things that will result in sociologists getting higher status is to have large cohorts of sociologists outside the university, which will make people more aware of the importance of this work."