Jen Lauda
By Annie Lyon, CAS/MA '03
September 16, 2009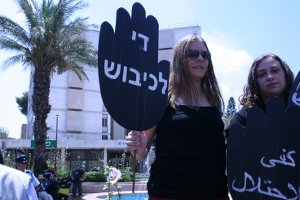 With a background in international studies, segueing into conflict resolution was a natural next step for Jennifer Lauda, who will graduate in December 2009 with her masters in International Peace and Conflict Resolution (IPCR) from SIS. "I became very interested in several complicated international conflicts and, as a result, realized that I wanted to commit my education and career to trying to make the world a more peaceful place," explains Lauda.
It was chance that brought the Israeli-Palestinian conflict to the fore for the Canadian native: "In my first semester [at SIS], I was paired to do research on the Israeli-Palestinian conflict with a student of Palestinian heritage … Then, in the very next semester, I was paired with a Jewish-American who had strong personal ties to Israel to research another aspect of the conflict," she notes. "Having this immediate exposure to two sides of the story opened my awareness to the fact that there are indeed many perspectives to explore."

Lauda tries to be optimistic about the future of peacebuilding efforts in the conflicted region, but her reflections are tinged with discomfort. "After having traveled [to the Middle East], I am left with a feeling of sadness that locations of such deep religious importance for my own faith, as well as for Muslims and Jews, are the epicenter of the conflict … Experiencing the Israeli occupation of the Palestinian land, and the consequence that this has on the Palestinian population is difficult … I got a deep sense of the injustice of the system and now realize that peace talks will not accomplish anything so long as the occupation continues," Lauda says.
Her education was enhanced by the trip, but Lauda's experiences on AU's campus were fundamentally helpful. With a combination of eye-opening classes (she credits Professor Ronald Fisher's Applied Conflict Resolution course with teaching her about the methods of mediation) and the resources of the Dialogue Development Group and the AU Mediation Center, Lauda has fine-tuned her skills for the future. "My time spent in the School of International Service has brought me to a place that has opened up many opportunities for me to accomplish my life goal of having a positive impact on society in some capacity," Lauda gushes. "The question that I must now answer is: how can I have the most impact?"