Student Success Story
Senior Devoted Breaks to Helping Native Americans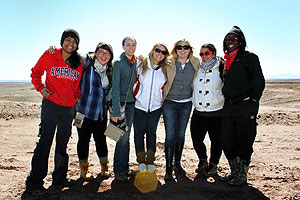 Even though Katie Mayer, BSBA and BS '10, is only one person, her activism has touched many people and issues off-campus and around the world.
She will graduate this year with an almost perfect GPA and a double major in International Studies and Business. Through her four years at AU Mayer has combined her passion for social justice and the business knowledge she's received at Kogod on campus, in Native communities, and internationally.
After a class with SIS Professor Patrick Jackson, Mayer realized that if she wanted to make a difference she needed to learn the business aspects of international development.
"Too often if you're caught on one side or the other of an issue you miss the big picture," Mayer said. "If you educate yourself on all sides of the matter, you can come up with a more sustainable solution."
During her freshman year, Mayer participated in one of AU's student-run alternative breaks to Pine Ridge Indian Reservation in South Dakota, the second poorest place in the Western hemisphere behind Haiti. There she realized the drastic living conditions on the reservation.
As soon as she returned to AU she got to work on growing the Student Advocates for Native Communities (SANC) group. Now, as co-president of SANC, Mayer has helped draw more students into their activism work on the hill and on campus. She also secured a $5000 budget from AU with a proposal she wrote for the club.
"If I hadn't gotten the chance to go to Pine Ridge and talk to the people there, I would not have gotten involved," Mayer said.
She didn't stop with SANC. Mayer has led three alternative breaks since her freshman year – two more to Pine Ridge and one last month to the Navajo reservation in Arizona – a trip which took 10 months to plan.
In Pine Ridge, the groups focused on land rights issues and development movements. With the Navajos, they looked into allegations of environmental and economic exploitation in the mining industry.
When she wasn't focused on American Indians, she had her eyes set on the EU. Mayer spent the 2009 spring semester abroad in Brussels looking at how EU integration coincides with post-conflict reconstruction in Eastern Europe. "I saw how you can use economics and business principles as peacebulidng mechanisms," she said.
After graduation Mayer is contemplating working with Teach for America or attending law school to study international law.