Alumni Success Story
Investment Expert '93 Brings New Energy to Atlanta Alumni Chapter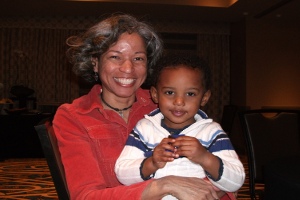 Ginne Miller, KSB/MBA '93, brings 17 years of finance industry expertise and an open approach to teamwork to her new volunteer role as leader of the Atlanta alumni chapter. Committed to developing exciting opportunities and programs for alumni and parents to get involved with AU in her region, she says she's "excited about expanding and further developing the brand and reputation of the university."
A financial advisor at Morgan Stanley Smith Barney in Atlanta, Miller is quite proud of and dedicated to her work.  "Most people work hard for their money.  I get their money working harder for them, and I get to help them keep more of it," she says.  "I meet and get to know so many wonderful people, and we share a part of life together."   
Though certainly driven in her career, Miller isn't all business all the time.  She jokes about alternative career paths she may have explored if she had not pursued a career in business.  "If not MBA, I'd rather be on the LPGA," she says, but "I started golf in my mid-20s."   
As an MBA candidate at the Kogod School of Business, Miller's favorite professor was Dara Khambata. "He generated excitement and mystique about the subject matter," she recalls of his international business.  One of her favorite AU memories, watching the results of a presidential election with a professor and friends, highlights the unique political nature of the student experience at AU.   
AU has invited Miller to speak at the upcoming May 22 Alumni Experts Breakfast on, "Investing for Changing Times."  Alumni, parents, and friends of AU are encouraged to attend the event, which will include breakfast, followed by a discussion on estate and financial planning in today's market.  It's a great opportunity to learn something new while mingling with old friends and making some new ones, too!

Meet Miller, along with the rest of the Atlanta alumni chapter leadership team - Toby McChesney, SPA/BA '02, and E.J. Stern, SOC/BA '04 - on Saturday, May 22 at the Emory Hotel and Conference Center.  Register online today.