Student Success Story
Making Connections, Mastering Communications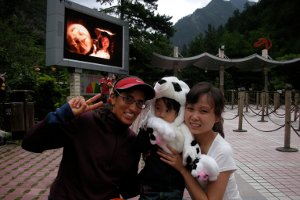 Larke Williams, SIS/MA '09 isn't the type to sit around. She knows just what she wants and is going after it. Having won a Boren Fellowship, awarded to graduate students studying off the beaten path in non-English-speaking countries, Williams feels like she's ready to tackle her life goals head-on.
But Williams stands out in another more notable way, apart from her eagerness to start her career: she was the first American University student to attend the China Studies Institute (CSI) in Beijing, and did so to study the language and the country's relationship with the United States, but, primarily, the environmental impact of pollution on China. As Williams noted in her abstract in her Boren application, "I plan to investigate this problem as a human security issue, because air pollution poses threats to human health and livelihood. Traditional definitions of security have focused on threats to the state, but with the rise of severe environmental issues, a human-centered security model can provide a method to engage nations on global environmental problems … The U.S. can use the resulting knowledge to better work with China on this global problem."
The Los Angeles native had enjoyed her undergraduate study abroad experience in Hong Kong, but felt greater ties to China itself, Williams says, "because the country was undergoing such rapid economic development." Her interest was piqued, and she applied for the Boren to go back to the country that so interested her.
While in China, "I really enjoyed researching and talking to many people working at NGOs in China," Williams gushed, "especially talking to taxi drivers; they always had an opinion about the environment [and] politics." Talking to people came easily to Williams, who prefers action to sedentary work. After all, part of the reason she chose SIS in the first place was its concentration on action fits with her personality. "I was really enticed to go to … SIS because of the school's focus on service," Williams said.
After she graduates, Williams knows exactly where she wants to be, too. "My goal post-graduation is to get a job as a policy analyst in the federal government … to help save our planet by working in international environmental policy and making environmentally-friendly changes in my own life."