Alumni Profile
Entrepreneurship Lessons Apply to Army Mission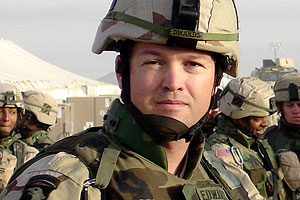 Major Joseph Edwards (MBA '07) chose the entrepreneurship concentration while completing his MBA at Kogod. "That might seem a little ironic for someone employed by one of the largest employers in the country," he admits.
But a talk with Professor Bob Sicina at the start of his program convinced him to try something new rather than his previous choice: leadership. "He asked people what they were interested in, and I told him; then he said, 'You already do that.'"
Edwards decided that Sicina was right; after all, he's almost completed 16 years of service, and after his retirement from the Army in four more years, he's considering doing something "a little bit different."
"I'm looking to expand my comfort zone," he explains. "Plus, a lot of the classes I took addressed leading small high-performing teams; a lot of that is applied to my work here at the Army. The unit I'm in now is less than a year old. Even though I'm in a large organization, I have a small staff that works for me."
Edwards first enlisted with the U.S. Army in 1994, after he completed his undergraduate degree. After his second tour of Iraq, he took advantage of a program to go back to school on the Army's dime; and in August 2006, he began the MBA program.
There was a catch to the free ride: Edwards had to complete the two-year program in just 18 months. But thanks to the Kogod advisors who helped him schedule his classes, he was able to make it happen.
He was also particularly impressed with the international focus of the university as a whole, which rubbed off on his business classes.
"Just interacting with people from so many different backgrounds – from all over the country, nonprofits, and government, I was definitely able to benefit from everyone's experiences and the different things they brought into the classroom," he says.
After Kogod, it was on to more schooling, this time at the Command and General Staff College at Fort Leavenworth, Kansas, where he learned operational and strategic thinking skills. For example, an assignment might involve figuring out how to secure a town or patrol a river in support of a large-scale defense directive from the president.
Now he's moved on to the 4th Maneuver Enhancement Brigade unit at Missouri's Fort Leonard Wood, where he's a fire support coordinator and liaison officer to a joint task force.
For the next year, Edwards is assigned to a domestic mission: he's part of a crisis management response team that is on call to assist first responders and local authorities on the scene of a crisis if they request help from the DOD. It's outside the scope of normal Army missions, but Edwards is flexible and adaptable – skills he no doubt improved through his graduate experience.
The mission will expire in September 2010 – after that, he'll wait to see what comes next. But he's proud of his marketability regardless: "Even in a job environment like today, I have confidence that if I wasn't in the Army, I could find a position."