Student Success Story
Former Marine Explores I.T. Consulting Through MBA Program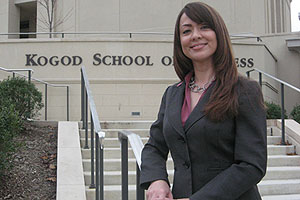 "During my tenure I've worked on many combined arms operations -- which are joint operations between the different military branches," says Thao Thompson (MBA '11). "I became very interested in the cross-business interactions which led me to consulting."
Thompson was a member of the U.S. Marine Corps for more than eight years, after enlisting at age 18. Both her parents were in the military, and the Marine Corps stood out to her when she was considering her future. "It's a smaller branch, and proved to be a challenge, both physically and intellectually," she explains.
In the service, "I was very mission-driven and very operational," she explains. "I decided to obtain my MBA to better leverage my Marine Corps experience in the corporate arena." 
Thompson graduated from George Washington University with a degree in international business after qualifying for a Marine Corps tuition assistance program.
After receiving an honorable discharge from the Marine Corps, Thompson got a job working as an internal consultant at Fannie Mae; then she moved to an I.T. consulting group. "But I wasn't fully utilizing my Marine Corps experience," she says. 
That, along with a desire to work on more long-term, visionary projects, led her to pursue an MBA.
Thompson entered Kogod's program in the fall of 2008 as a full-time student, but accepted a position in the spring of 2009 with the Food and Drug Administration's (FDA) Office of Regulatory Affairs and switched to part-time status.
The flexibility to make that shift is one of the reasons Thompson chose Kogod.
"I was looking for a more intimate community with camaraderie," Thompson says. "I wanted the unity of a smaller, private campus."
Now, at the FDA, Thompson acts as an advisor to the Division Director and a Program Manager on a 5-year Business Process Re-engineering effort overseeing 37 projects towards increasing the efficiency and effectiveness of FDA laboratories.
Long-term, Thompson would like to open a consulting firm in the Washington, D.C. metropolitan area, focusing on the federal government.