Student Success Story
Personal Attention Led Coast Guard Veteran to Choose Kogod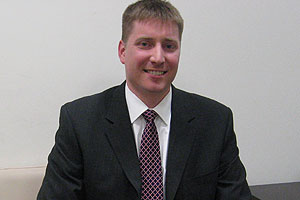 Though Matt Cunningham left the U.S. Coast Guard's active duty in May 2008, he's still a member of the Reserves and works for a retired Coast Guard officer. "I can't get enough of the Coast Guard, basically," he laughs.
The Reserves only requires one weekend per month and two weeks every year of his time, which is easier to juggle along with Kogod's part-time MBA program and a full-time job.
After five years of full-time, active duty, Cunningham left the Coast Guard to take a position with an outside contractor that works heavily with the branch. He handles external communications, strategic planning, and answers Congressional inquiries on behalf of the Delaware-based consulting firm.
Cunningham majored in management at the U.S. Coast Guard Academy in Connecticut, the smallest of the five federal service academies with only about 1,000 cadets.
He spent his first two-year tour in Key West, Fla. on a 270-foot ship that patrolled the Caribbean for vessels suspected of carrying drugs or illegal immigrants. As a boarding officer, Cunningham's assignment was to board the suspect vessels and assess the situation.
Though patrolling the Caribbean "wasn't a bad gig," he landed an enviable follow-up assignment in the summer of 2005: serving in the Coast Guard Recruiting Command as the USCG's liaison to NASCAR, based in Arlington, Va.
The USCG was the primary sponsor of Richard Childress Racing's No. 21 Chevrolet in the NASCAR Busch series for the 2006 season; the Coast Guard did not return to the sponsorship role in 2007 due to budget restructuring. When the USCG made the sponsorship announcement in September 2006, the Coast Guard Racing team's main driver, Kevin Harvick, led the Busch Series owner point standings with seven wins, 19 top-five and 25 top-10 finishes in 28 races. Harvick was declared champion the next month, October 2006.
Following the NASCAR assignment, Cunningham was assigned to recruit engineers on behalf of the USCG and traveled across the country, collaborating with engineering organizations and schools.
"The NASCAR job was exciting," Cunningham admits, but "I always knew I wanted to go back to school."
A desire to stay in the Washington, D.C. area concentrated his search for a graduate program, and the personal attention he received at Kogod won him over.
"It was a very welcoming environment, from information session to orientation," he explains.
Now Cunningham is taking accounting and statistics courses and contemplating his options for the MBA concentration. Overall, "I'm enjoying the civilian world," he says.