Alumni Success Story
From the Beijing Olympics to the World Cup: SIS Alum Builds Career in China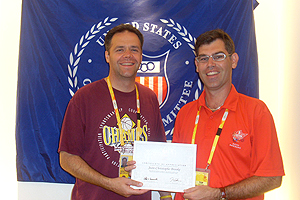 The language barrier, the cultural differences, the lifestyle – living and working in China presents its share of challenges, but J.C. Brooke, SIS/BA '95, has overcome the obstacles and adapted well to life in the Far East.
Since getting his start in China's rapidly changing business world more than 12 years ago, Brooke has built an impressive resume that includes project leadership for the Special Olympics, the FIFA Women's World Cup, and the Olympic Village at the Beijing 2008 Olympics. Fluent in Mandarin, he is currently the strategic customer manager for Shanghai Shenmei Coca-Cola Bottling Company, one of the largest bottling facilities in Asia.
Brooke recently reflected on his incredible responsibilities at the 2008 Summer Olympics, his career in international business, and where he first caught the "China bug" – at AU.
Q. I'm very interested in your role during the 2008 Olympics as Venue Manager of the Olympic Village. Can you discuss your responsibilities?
I was chosen as venue manager of the Olympic Village with the responsibility for ensuring a 24-hour supply of our cold beverages throughout the village to an international community of athletes, officials, staff, volunteers, media and VIPs, including heads of state. With most of the beverages provided for free at the Village, we were constantly filling machines with product even when most people were asleep.
The Olympic Village had a 24-hour operations starting from mid-July until end of September for both the Olympic and Paralympic Games. It provided services for almost 2,000 continuous hours in which cold beverage in the heat of Beijing summer was important to keeping everyone refreshed during the games.
Q. How many Coca-Cola beverages were consumed during the course of the Olympics?
Over half a billion consumer connections were made through Coca-Cola's sponsorship of the Olympic and Paralympics Games. This included almost 25 million cold beverage servings.
Q. What was the greatest challenge of this experience? And the greatest reward?
The greatest challenge was getting a large, diverse group of colleagues trained up in less than a week to work as one unified team across 24-hours in one of the largest venues in the largest sporting event ever.
The greatest reward was the appreciation my team received throughout the village from athletes, national Olympic committees, staff, and volunteers whether it was the U.S. Olympic Committee or the various officials throughout the village. That sense of contribution in making the Beijing Olympics a success provided a great feeling of pride to me and my Chinese colleagues.
Q. How did you break into this career path?
AU's strong international relations program at SIS, the cosmopolitan environment of Washington, D.C., and the school's support for my study abroad in Beijing provided the foundation for launching a career path in China. A successful internship at Coca-Cola China during my MBA studies and previous five years experience in China jump started my career within the Coke system here.
Q. What are some of the greatest differences between running operations in China as opposed to the U.S.?
In China, the market changes and develops faster while varying significantly across the regions. This requires your operational model and route to market to respond more quickly to adapt to competitive changes.
This includes quick product innovation and comprehensive market penetration strategies to meet changing consumer preferences across diverse market segments such as rural towns and fast growing metro /urban cities. Cultural contexts also play a major difference here in terms of the importance placed on business relationship building, which can break or make a business partnership.
Q. Do you speak Chinese, English, or a combination of both in your day-to-day business interactions?
As one of the few foreigners in our bottling organization, I tend to mostly communicate in Chinese with my team and colleagues. Certainly my language training since high school and work on the ground provides an advantage in communication, but it is not critical. I would say cross-cultural communication and understanding is more critical when building business relationships here.
Q. What advice would you give to current AU students or alumni interested in doing business in China?
China is an exciting and challenging market that is playing an ever significant role in the global economy especially after its stability and growth contribution during the recent global economic downturn.
For those students interested in this region, I would strongly suggest to take full advantage of SIS's diverse faculty and course offerings during your time at AU to gain a better understanding of the region. Study abroad is the best way for students to get hands-on experience of the culture during school for those contemplating a career in China. Usually after such an experience, one will know if they have caught the China bug, which most do!