Alum's Interest in Japan, Travel Lead to Unique Dual Degree
By Annie Lyon, CAS/MA '03
April 12, 2010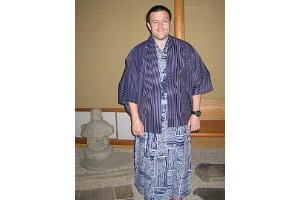 A lot of students entering – and leaving – college aren't quite sure what they want to do. But while he was a student at Gettysburg College, Jamie Ravetz, SIS/MA '07, made a choice that changed his life. 

"Language was a requirement, so I took Japanese to see what it was like. My interest in the culture, history, and region grew after that," he explains. After majoring in history and Japanese studies, the Pennsylvania-raised Ravetz found himself hooked on the latter.
With a combined interest in Japanese culture and a love of traveling, the next few years fell into place. Ravetz spent three years in Japan, "both as an English teacher on the JET [Japan Exchange and Teaching] program and as an advanced language student in Yokohama," Ravetz recounts. "My experience as the only foreigner in an isolated coastal village contributed greatly to my desire to represent the United States around the world.  It was after a post-Japan extended backpacking trip through the South Pacific, Australia, New Zealand, and Asia, followed by a brief foray into the business world, that I realized that a job in international public service would be ideal."
Enter American University's Dual Masters Degree Program (DMDP) with Kyoto, Japan's Ritsumeikan University, which allows the student to study for one of the two years of the program at AU, in the School of International Service, and the second year at Ritsumeikan's Graduate School of International Relations. The fifteen-year-old program is the first one offered between Asian and American schools, and Ravetz jumped at the chance to take part.
"[DMDP] was what brought me to AU," he says. "I found no other program like it in the United States." In May 2007, Ravetz graduated with two master's degrees: one in international political economy, from SIS, and one in global governance from Ritsumeikan.
And then the U.S. Department of State came calling. Its timing was impeccable: it didn't even wait until Ravetz was finished with his degrees. "I passed my oral exam about a week before I went to Japan [for the second year of the] program.  The State Department conveniently offered me a position two days before I was to returning to Washington to defend my [significant research paper]."
Since graduating from the DMDP and joining the Department of State as a foreign service officer, Ravetz's passport has seen much more use. During the past two years, he could be found as a vice-consul in the Consular Section of the American Embassy in Singapore, working in the Visa Unit and American Citizen Services Unit. After a summer in the U.S. studying French, he'll take off for Nouakchott, Mauritania, "to [start] a two-year tour there as the Public Affairs Officer for the Embassy.  It will be a completely different experience and very challenging," Ravetz notes.
But no matter where he finds himself, in Asia or Africa, Ravetz is confident that his SIS and Ritsumeikan degrees will serve him well. "My graduate school education continues to provide me with a strong base of knowledge and analytical skill-set that enable me to better grasp current events and America's ever-evolving role in the world."