Faculty Success Story
SIS Faculty Profile: Anthony Wanis-St. John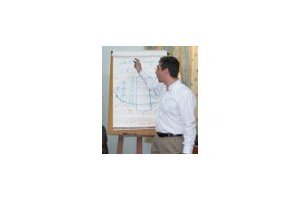 In December 2009, Professor Anthony Wanis-St. John was invited by the United States Institute of Peace (USIP) to travel to N'Djamena, Chad to consult on unity talks being held between military commanders of several Darfur rebel groups.
"Our time in N'Djamena was four days of intensive exploration of the obstacles to and possibilities of unification for political negotiations with the government of Sudan," said Professor Wanis-St. John. "We talked to them about other peace processes that either suffered from, or overcame, fragmentation problems, and we also let them explore their issues and concerns with each other."
He emphasized that the meeting, facilitated by USIP in coordination with the Office of the U.S. Special Envoy for Darfur, was just a start and that USIP and others, including Swisspeace, have been investing in rebel unity for some time. The groups have been seriously fragmented for several years, and the fragmentation worsened after one group (the SLM/A) signed the Darfur Peace Agreement in 2006. Another major group, JEM refused to sign it. That agreement failed and fighting continued, but the Government of Sudan signed a new ceasefire and framework agreement only with JEM, on February 23, 2010, further complicating unity talks.
"They are still a long way from unity, but they are at least working toward it," Professor Wanis-St. John said. The fieldwork ties in to his ongoing research project on the fragmentation dynamics of parties in violent conflicts and peace processes.