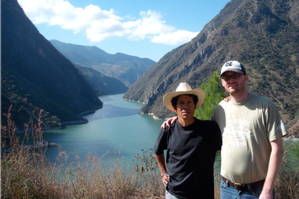 With all of its apparent diversity, what, exactly, constitutes "American Life" in 2012?  What does it possibly mean to be American?  This course uses anthropological methods of inquiry and ethnographic writing to consider these and many other questions.  If the life in the United States is represented by Barack Obama, Lady Gaga, Cliff the butcher, and you and me, can we possibly articulate anything that we all have in common?  The course will include four loosely connected segments: Higher Education; Environment, Energy, and Food; Underground Economies; and something I'm calling, "Haven't we gotten over the 80s?".  Each section will include readings, discussions, field excursions, and films.  Throughout the course, we will include our own experiences as valid information about what it means to live in the United States.  Of course, it would be silly to ignore the fact that this course will take place against the backdrop of a Presidential election.  While no one section is devoted to electoral politics, we will include on-going political debates throughout.   
Fulfills one class requirement for area 4 General Education requirements
This seminar is for Fall Semester only.