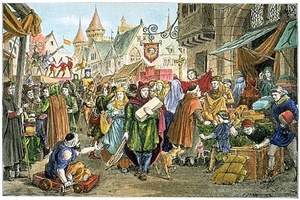 Course Overview
Microeconomics studies the inner workings of the market system. In a market economy, people exchange goods and services. People buy and sell physical products, services, financial assets, capital, labor, and intangible assets, like know-how, brand names, or security. What facilitates trade is the price system. Prices help allocate resources. For example, if the demand for goods and services is high relative to the amount available, prices rise so that consumers cut back. Furthermore, a rise in prices encourages producers to make more available. Thus, the market economy, through the price mechanism, works in a decentralized fashion. Resources are allocated without a central coordinator or a macro-manager directing economic activity. Yet the market economy – with its participants all acting independently – is capable of producing very high standards of living, technological progress, and wealth.
This course explains how markets work and why they produce certain outcomes, like high productivity and economic advancement. The course also shows how microeconomic principles can be used to improve decision-making; for example, to maximize profits or consumer well-being. But sometimes markets fail to allocate resources efficiently or equitably. Markets may not be competitive. Some firms or organizations may have market power. This course, therefore, also discusses conditions under which market failures or market imperfections arise, and examines the different remedies for them. The course critiques the role of public policy, regulations, and public provision, in the context of market failures or imperfections.
The course presents the basic principles and foundations of microeconomics, as well as provides a number of applications of microeconomics to various policy issues, such as health care, immigration, education, environment, innovation, agriculture, poverty, and more. The course focuses on both domestic issues as well as international, including global trade, investment, and economic development.
Goals of the Course
The main goal of the course is to provide students with an intellectual toolkit for analyzing policy issues from an economics perspective. This means understanding the role of market forces: supply and demand, and the price system. Furthermore, students should learn why economic policy-makers, such as antitrust regulators, often advocate competition or want markets in general to be competitive. Students should also understand the key sources of market failures and be able to analyze the various options, including public intervention, for addressing market failures. Another key objective is to give students exposure to current events and an opportunity to discuss policy issues.

The course is designed as an applied, non-technical introduction to microeconomics. The emphasis is on developing the intuition behind 'models' and concepts. The course will combine lectures with University College labs, classroom experiments, class debates and presentations, and case studies. Students are encouraged to view economics and economic issues from an interdisciplinary perspective – to see how economic factors relate to political and social developments, art and technology, philosophy, rules, and institutions.


This course counts towards General Education Foundation Area 4