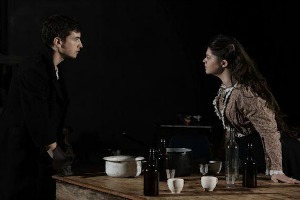 PERF-115
An overview of the principles of drama from the ancient Greeks to contemporary society. The class draws on theatre history and social context, the reading of great literature, critical analyses, and artistic exploration to culminate in the experience which is the essential element of the art itself – performance. 
In this course, students will investigate the principles and practice of theatre over 2500 years, from contemporary theatre to Ancient Greece. Three units will scaffold the course: Contemporary/Modern Theatre, The Renaissance Imagination and The Greek Experience. Students will attend performances in Washington, DC theatres that will anchor each unit. Dramatic literature and basic elements of theatre practice/performance will be investigated as a source of insight, a reflection of society, and as provocateur for change.
Through class discussions, play readings, lectures, writing assignments and exercises, as well as interaction with guest presenters, students will gain an appreciation for theatre and an ability to think receptively, aesthetically, communicatively and creatively.
Counts toward the fulfillment of Area 1 of General Education.
This seminar is Fall semester only.

From the professor...
What is your style in the classroom? 
INTERACTIVE. I like to think of classroom discussions as dynamic dialogue. Our work in PPP is understanding and learning the theory and basic principles that are the foundation for each unit and then to put these elements into practice with varied projects that use multiple styles of learning for implementation. For example, for the unit on Greek theatre, we read Sophocles Antigone. We analyze the play and then the students work with staging choral passages in our amphitheatre. They work with basic costuming and Greek masks for the presentation. Students also create a shoebox set design for their scene. Students subsequently read and analyze Jean Anouilh's modern play of Antigone (written during Vichy France) and Antigona Furiosa (a contemporary Argentinian version of Antigone). They create and perform internal monologues for the characters, reflecting the varied acting styles and interpretations of the three Antigone scripts.

What's distinctive about the way you teach this class? 
My approach is to apply Howard Gardner's multiple intelligences in the classroom--to teach through varied entry points. Of course I work with the traditional verbal, linguistic, and logical mathematical approaches, but I also address learning that involves the spatial, musical, bodily-kinesthetic,interpersonal, intrapersonal and naturalist intelligences. An example of this application is the final examination which includes critical essays AND creative projects that challenge students to deliver the synthesis of the their understanding of the course in multiple ways. Students submit a final portfolio the the instructor, but present creative highlights to the entire class during the final examination period. 
Another critical component of this course is the cultivation of metacognition, as students are guided to understand how it is that they learn, to build upon their strengths and address areas that are less developed. Students are guided to proactively assume responsibility for their own development as critical thinkers and creative problem solvers.

What do you like best about teaching undergrads?
I truly value the intellectual curiosity, willingness to take creative risks, and the vitality of spirit that is manifested in our undergraduates at American.