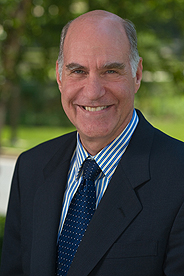 Photo by Jeff Watts
I am delighted to welcome you to the Office of the Provost at American University.
Home to six colleges and schools, with nationally recognized programs, centers, and institutes, a distinguished faculty, and a location that offers countless resources, American University provides students with a rich educational experience that few universities can match.
AU offers rigorous curricula grounded in the arts and sciences and connected to professions addressing contemporary issues, curricula built on our commitments to interdisciplinary inquiry, international understanding, interactive teaching, research and creative endeavors, practical application, and social responsibility.
Cocurricular activities based on these commitments—such as study abroad programs in 41 countries, internships in our Washington Semester Program, and opportunities to conduct research with faculty—allow students to craft unique and personalized educational experiences. And, with Washington, D.C., as their classroom, they are able to take advantage of the vast opportunities offered by the federal government, embassies, theatres, research institutes, and other national and international organizations.
The AU community is one of exceptional talent. I encourage you to explore the faculty biographies on our Web site. You will see that AU faculty are experts in their fields and engaged in their professional disciplines. Whether in their individual research and creative endeavors or as part of one of AU's many academic centers and institutes, our faculty apply their expertise to the pressing issues of our time.
Our students are similarly accomplished, including among their number Truman, Marshall, Goldwater, Udall, and Fulbright Scholars, Rhodes finalists, and fellows in numerous prestigious programs.
Thank you for visiting our Web site. Feel free to contact my office if we can be of help to you.
Scott A. Bass
Provost