Small Group Training - New for Spring 2014!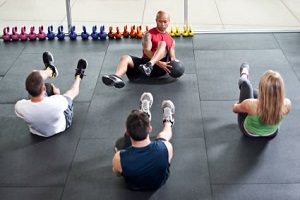 Split the Cost - Share the Goal!
Take advantage of our Personal Training Services at a fraction of the cost. These training programs are tailored towards your group's training focus as well as your own personal fitness goals. Form your own small group or have us match you up in order to take advantage of group camaraderie, motivation, reduced cost per training session, and focused group training sessions, as well as coaching and program design from our Certified Personal Trainers. Scroll down the page to see some of our suggested small group training focuses.
Groups consist of 3-6 members**.  Don't have a group? - No Problem! Let us know you want to sign up and we will find you one. You and your group select the days you want to train based on group and trainer availability.
Pricing
Members of each group split the cost of the program, making the cost of each session much lower than individual or buddy training:
6 weeks (12 sessions) = $1080.00 (that's $90 a session) split between 3-6 people**
**The Couch to 5K program can accommodate up to 10 people.
SPECIAL OFFER: Receive 15% off your second 6-week session if your group renews for a 2nd training package.