Wellness Workshops - New for Spring 2014!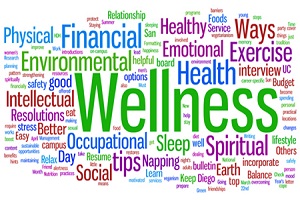 Let our Recreational Sports & Fitness, Wellness Ambassador's bring health, fitness & wellness to YOU! Check out our wellness programming menu with topics including fitness, stress, nutrition, goal setting and much more! These workshops can be requested by any student group, academic class or campus department and can be tailored to small and large groups. All workshops last about 1 hour. See our complete list of interactive wellness workshops below.
**NOTE: Please allow 2 weeks notice when requesting a workshop. Most workshops are FREE or charge, with the exception of a private group exercise class (see associated fees below).**

If you have questions or would like to request a workshop please contact Catherine at clynch@american.edu
Wellness Programming Menu
Beginner's Guide to Exercise
This presentation will cover everything you need to know to start an exercise regime including how often to workout, what to wear, tips for exercise adherence, and much more!
Bulletin Board in a Bag
We will provide you with credited information for your bulletin board on a variety of wellness topics. All you need to do is get the information from us, print, post and add your own creative design!
Calorie Balance
Learn the basics of how to lose, maintain, or gain weight and increase your eating awareness with education on portion size, calorie intake, energy expenditure (exercise) and My plate guidelines.
Fitness Center Orientation
Meet the staff, learn about the many programs Rec Sports has to offer, and learn how to use the fitness equipment in both Jacobs and Cassell Fitness Center in this all-inclusive, hands-on tour.
Fitness Anywhere
No Gym? No Problem! Learn how to workout out efficiently anywhere with minimal tools.
Improve Cardiovascular Endurance
Learn how to effectively and safely plan your workouts so you are ready on race day! Presentation topics include intensity progression, recovery time, basic nutrition and more.
Myth Buster's Jeopardy
Discerning fact from fiction can be challenging in the fitness industry.  Increase your health and fitness knowledge in this friendly game. Prizes will be awarded!
Perfect Posture - Correcting Muscular Imbalances
Learn how to reduce injury and improve movement efficiency. This presentation will education you on ideal posture and causes of muscular imbalances. Each participant will receive a movement screening assessment to assist in detecting and correcting muscular imbalances.
Private Group Exercise Classes
Host your own private version of one of our fun fitness classes. Class can be held in our aerobics room or brought to you on campus. Available class formats include Zumba, Pilates, Yoga, Kickboxing, Step, Circuit Training, Core, Bootcamp, Cycling, Belly Dance, Sculpt and Tone, Hula Hooping and more!
**Flat rate of $50 for each class. Class sizes vary depending on format and space where the class is being held**
Six Dimensions of Wellness
Through this interactive presentation you will learn about the six dimensions that contribute to wellness, have the chance to evaluate your own wellness and learn about campus wellness resources.
Setting Smart Fitness Goals
Workout more efficiently by learning about the National Physical Activity Guidelines, the 5 components of fitness, the key elements of planning a workout and the ways to set SMART fitness goals.
Weight Training Basics
Weight training is an essential aspect of a fitness regimen. This presentation will teach you everything you need to know about getting started on a weight training program, such as workout frequency, planning your weekly workouts and the benefits of the various weight training methods.
Stress Management
Stress is a normal response to life's demands. This presentation will provide you with the tools to better cope with stress in all aspects of life.
Using Fitness Assessments to Track Progress
Do you ever wonder if you are making progress with your workout efforts? This presentation will teach you how a Fitness Assessment can be utilized to stay motivated, create fitness goals and track your progress.