Compete alone or TRI a new form of "Group Exercise"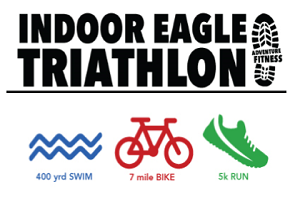 Indoor Eagle Triathlon - Saturday Nov. 8th
Compete as a team or as an individual in this 400 yard swim, 7 mile bike and 5k run combination. Race begins at 9am.
Register Now! at the Jacobs or Cassell Fitness Center front desk. Must register no later than October 31st. Prizes, courtesy of our sponsors, will be awarded to the top competitors.
Cost:
$15 for Individual Competitors OR $25 for Team Entry