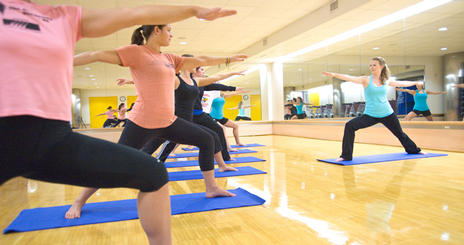 Instructional Programs
Progress through the studies of Yoga or Karate and develop your practice.
Instructional Programs
Different from our Group Exercise classes, our Instructional Programs focus on a progression of postures, exercises and techniques over a series of weeks. Classes are appropriate for all fitness levels and previous experience is not needed. Current and former programs include Vinyasa and Anusara-Inspired Yoga, Kripalu Yoga, Tai Chi and Kyokushin Karate.
Policies 
Pick up your class pass ticket at a Recreational Sports and Fitness Front Desk prior to entering class
You may pick up your ticket 30 minutes prior to the start of class
Classes are limited to 30 participants
No bags or hard/black soled shoes allowed in the Aerobics Room
No admittance is allowed into classes more than 5 minutes after the class begins
Please do not leave class early unless there is an emergency
We reserve the right to cancel classes if attendance is consistently low
Fall 2013 Yoga

7 week Session:
$100.00 for Recreational Sports and Fitness Members
$125.00 for Non-Members 
(Faculty/Staff Only)
Fall 2013 Karate
7 week session:
$85.00 for Recreational Sports and Fitness Members Only
Registration Form
Bring completed registration form to a Recreational Sports and Fitness front desk to register today!
Contact Jacquelyne Chantry (chantry@american.edu) with any questions.

Instructional Program Schedule
Fall 2013 Instructional Programs
Session Dates:
Session 1: 9/2 - 10/18
Session 2: 10/21 - 12/8
Class Days/Times:
Vinyasa Yoga (Christina): Tuesdays & Thursdays from 5:30-6:30pm
**Yoga includes our Sunday class from 12:00-1:00pm**
Karate (Elias): Mondays & Wednesdays from 8:30-9:30pm
Find out more
Find out more about our Fall 2013 Instructional Programs by visiting a Recreational Sports & Fitness front desk today!