Research
Music Librarian Brings Global Background to AU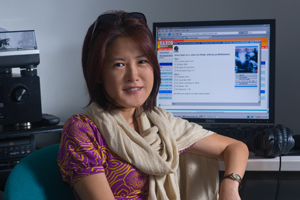 AU's music librarian is as global as the music in the library she runs.
Her story starts in Japan with an Afro-Carribean instrument, violin music, and a chance meeting with New Orleans jazz.
It was her aunt who taught Nobue Matsuoka-Motley to play the marimba. She learned so well that she was soon performing in an unusual marimba trio, one that tapped out classical études and airs using the only scores available for their sound: violin sheet music.
One day, the trio was followed on stage by a jazz band, and the 17-year-old Matsuoka-Motley lost her heart to New Orleans. "It was so exciting," she says of the music she heard that night.
Right then and there she made a plan: she'd earn the money for a plane ticket to New Orleans, try to convince her parents to let her go for a few months, and then she'd find a way to stay.
Amazingly, the plan worked.
Nobue's parents said yes to a brief study tour, and once in NOLA, she landed a full-tuition scholarship at a community college and began studying with a percussionist from the New Orleans Symphonic Orchestra.
Then, another concert changed everything. Nobue's percussion teacher invited her to an orchestra concert where she experienced a repeat of her experience with jazz in Japan. She recalls her reaction to the soaring classical music: "'Oh my God, symphonic music is so fantastic! I have to study this!'"
So she made an amicable split with jazz and headed to Loyola University to study classical percussion—and then graduated into a profession with almost no job openings.
There aren't many symphony orchestras in the United States, and each one employs only two or three percussionists. "It's a nice job, and usually, if you get that job, you don't quit," she says.
She did well in auditions for orchestra slots, regularly making it into the semifinals. But it was clear to her that she'd need another way to make a living—ideally, one that still allowed her to fill her days with music.
That's how Matsuoka-Motley decided to become a music librarian. When her last graduate credits were dramatically interrupted by Hurricane Katrina, which swamped the New Orleans music library where she worked, she finished the degree online.
Later in 2006, Matsuoka-Motley joined AU's library faculty. Here she coaches the percussion section of the AU orchestra and wind ensemble and performs with them in concert.
Impressed by the wisdom possessed by the AU music students she's met, who are combining their love for music with other passions, she says: "I had to spend years getting an extra degree. I'd never discourage anyone from majoring in music, but it's really hard, so I'd always encourage students to be a double major."