Research
Recently Released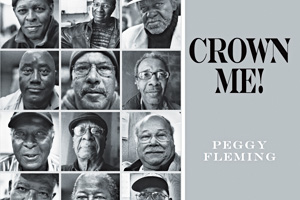 Writing about what we want to know inside and out is at the heart of the university's mission. For National Book Month, we review some recent scholarly writing by AU wonks in fields ranging from poetry to foreign policy. For some, it's love of the written word. For another, a book was born when circumstance led a zigzag path into the heart of a little-known community. For still others, these new publications stem from the convergence of academic interest and a passion for the subjects that impact our daily lives and shape our world.


Uncommon Mathematical Excursions: Polynomia and Related Realms, Dan Kalman, CAS, winner of the Beckenbach Book Prize
What sort of books do math teachers keep on their bedside tables? Dan Kalman, CAS mathematics professor, started out designing "light reading" for people who spend their working lives in the realm of polynomial equations. Most high school math teachers are pushed deeply into advanced mathematics during their training, but spend their working lives teaching secondary level math. His book is a chance for enrichment, exploring tangential ideas connected to the math high school teachers teach every day.

"I tried to produce a model for a different kind of math book for teachers. Even if my book is never widely used for teacher training and professional development, I hope it will influence future teacher educators as they develop ideas about course content," said Kalman. The Mathematical Association of America awarded Kalman the Beckenbach Book Prize, a periodic honor awarded only when the association deems a book to be truly innovative and judged outstanding.
Crown Me!, Peggy Fleming, SOC
Photographer and MFA student Peggy Fleming learned about the Capital Pool Checkers Club from Pernell Lee, the man who sold her her first vacuum cleaner. Spending an afternoon with the club, watching the men play a game they'd gathered to play in that same location since 1985, Fleming found a room adorned with hundreds of snapshots of former and current members. There was soul music and the staccato click of checkers on boards. The men were known by their checkers handles. Even the club's president said sometimes he doesn't know the players' real names. Fleming asked if she could make portraits of the members and conduct interviews with each. The result, Crown Me!, is a compilation of 24 portraits and interviews, and prompted Fleming to develop a documentary on the Checkers Club — a step that brought her to AU's film department.


House Inspections, David Keplinger, CAS, translator
David Keplinger, director of creative writing and professor of literature, CAS, recently translated the book of poems House Inspections with Danish poet Carsten Rene Nielsen. Keplinger has worked with Nielsen for 12 years, and in 2007 the pair published selected poems in World Cut Out with Crooked Scissors. House Inspections received a Lannan Foundation Grant.


Reclaiming Fair Use: How to Put Balance Back in Copyright, Patricia Aufderheide, SOC, and Peter Jaszi, WCL
Patricia Aufderheide, professor of film and media arts, SOC, and Peter Jaszi, professor of law, WCL, aim to clear up the common misunderstandings about how to interpret and apply fair use. As Aufderheide explains, "We wrote Reclaiming Fair Use to make it easier for people performing one of the many creative acts they do each day — from writing an e-mail to studying a text to making a blog post — to understand their free speech rights of fair use."
U.S. copyright law permits a wide range of usage for copyrighted material without permission or payment, under the doctrine of fair use. This book should help clarify interpretations of the doctrine and also provide a solid background in the history of that part of copyright law.


Becoming a Candidate: Political Ambition and the Decision to Run for Office, Jennifer Lawless, SPA
What factors drive political ambition at its earliest stages? Why does anyone make the move from politically minded citizen to candidate for public office? What triggers the initial decision to run for office? And what suppresses political ambition over time? Those are the questions Jennifer Lawless explores in her new book. 

To answer her questions, Lawless used data from a comprehensive survey of thousands of eligible candidates to systematically investigate what compels some citizens to pursue elective positions and others to recoil at the notion. The government professor and director of the Women and Politics Institute looks at personal factors like race, gender, and family dynamics; she also assesses professional circumstances and attitudes toward the political system to shed new light on the candidate emergence process. By developing a broader conception of political ambition, the book speaks to fundamental questions of electoral competition, political representation, and democratic legitimacy.


"How to Develop International Partnerships with U.S. Institutions" in Developing International Partnerships: Models for Initiating and Sustaining Innovative Institutional Linkages, Fanta Aw, Campus Life, and Leeanne Dunsmore, SIS
It seems kismet that a chapter about partnership was written collaboratively. Fanta Aw, assistant vice president of Campus Life and director of International Student and Scholar Services, and Leeanne Dunsmore, associate dean, graduate admissions and program development at SIS, worked together to develop a chapter for the Institute for International Education as a resource for international governments and universities seeking to establish partnerships with American universities. Together the duo shares 40 years of experience in international education. Coauthorship, said Aw and Dunsmore, was "seamless" and "a real treat."


Good Fences, Bad Neighbors, Boaz Atzili, SIS
Boaz Atzili, political scientist and SIS professor, explores the effect of border fixity — proscription of foreign conquest and annexation of homeland territory — in his new book, Good Fences, Bad Neighbors. Atzili argues that while this international norm has increased stability and peace in some parts of the world, it has the opposite effect in most of the developing world. Atzili will discuss his perspectives at a book talk planned for late February.


Readings in U.S. Foreign Policy, Guy Ziv, SIS
Guy Ziv designed Readings in U.S. Foreign Policy as a textbook for his Analysis of U.S. Foreign Policy course. The book is an undergraduate introduction to the historical foundations of American foreign policy; key theoretical approaches to the study of foreign policy making; the central actors, institutions, and political processes of U.S. foreign policy; and contemporary challenges to U.S. primacy in the twenty-first century. This revised edition includes essays on the Arab Spring and the likely impact of these revolutions on jihadist groups and, by extension, U.S. counter-terrorism efforts.


Grant Park. The Democratization of Presidential Elections, 1968–2008, Candice Nelson, SPA
In the 40-year span between 1968 and 2008, presidential elections became more open and transparent. The way Americans chose Richard Nixon as their president was very different from the way they chose Barack Obama. Candice Nelson, government professor and academic director for the Campaign Management Institute, examines changes in the country — from shifting election laws to changes in demographics to technological transformations — that influenced presidential elections over the past four, turbulent decades. Nelson's new book also takes a look at how these changes will likely impact the 2012 presidential election.


"The Power of Recognition: Of Intellectual Restlessness and Adventurism" in Teaching Joe L. Kincheloe, Loubna Skalli-Hanna, SIS
Former students and colleagues of Joe L. Kincheloe pay tribute to a man Loubna Skalli-Hanna refers to as "one of the greatest scholars on critical education and social justice" and "my teacher, friend, mentor and colleague." Hanna, international development professor, wrote the chapter with friend and colleague Katy Razzano to convey Kincheloe's search for ways to challenge dogmatic knowledge and practices.
 

On My Honor: Real Lifes Lessons from America's First Girl Scout, Shannon Henry Kleiber, SOC '93
This year marks the 100th anniversary of Girl Scouts, and former Washington Post writer and AU alum, SOC/MA '93, Shannon Henry Kleiber's new book details the life and motivations of founder Juliette "Daisy" Gordon Low. The girls' institution has touched over 50 million women in the United States and 2.3 million girls this year, but the Girl Scouts began simply when Gordon Low reached a turning point. Widowed in her fifties, she determined that it is never too late to change your life and wrote "How Girls Can Help Their Country" — a feminist self-help book before those terms became common parlance. Henry Kleiber views the woman and her organization through a modern lens.


Guy, Hasina Stearns, SOC, editor and illustrator
Film and video MA candidate Hasina Stearns is cofounder of Fred and Barrel, the house publishing Guy, a new philosophical play. Stearns originally established Fred and Barrel without a focus on a single genre, because she hoped "to promote artistic literature to inspire deep reflection or a hearty laugh." Says Stearns, "I also wanted to give a chance to poets and cartoonists to publish their artistic worlds."

Guy, illustrated and edited by Stearns, is the story of Guy, an architecture student and varsity tennis player on his epic journey to find . . . nothing in particular. Guy is a tall, handsome student who thinks deeply about mankind and life. At least he does that in the first act. Then he becomes swamped with homework and projects. Eventually, he opts to live by caprice, letting his whims take him wherever he is destined.