Research
Professor Examines Race and Gender in Asian Art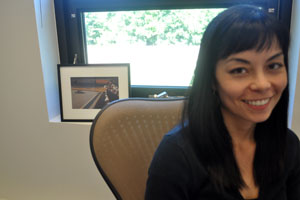 For Namiko Kunimoto, art is about much more than aesthetics—it is about cultural meaning and identity. The new art history professor began her undergraduate career as an anthropology major and later added a major in her current field of study. Although Kunimoto pursued her master's and PhD in art history, anthropological analysis has been a major component of her work: issues of race, gender, violence, and nationalism in modern and contemporary Asian art.
"I was originally drawn to anthropology and cultural representation because I was really interested in the issue of race," says Kunimoto. "I grew up in a smaller town where I was one of the only Asian people, so I think that drew me to issues of representation and why the way we perceive the world is sometimes affected by what we see and how we see it."
Kunimoto's PhD dissertation, "Portraits of the Sun: Gender and Nationhood in the Art of Tanaka Atsuko and Shiraga Kazuo," took an in-depth look at the work of two artists from the Gutai Art Association—a group of Japanese artists that aimed to create unconventional, fresh art.
In her paper, Kunimoto argued that though the Gutai group have historically been treated as a homogenous entity, each of the artists—over 50, total—deserve to be examined individually because of their unique styles. Specifically, Kunimoto examined how issues of gender affected the Atsuko and Kazuo's social status and work and how national identity affected society's gender expectations of them.
Building on her interest in visual culture, Kunimoto's master's thesis examined family photography from Japanese-Canadians in Canadian internment camps from 1939 to 1949. Through personal unarchived photographs and interviews, Kunimoto's thesis "looked at how these photographs operate as a way to hold the family together, as a means to supplement moments of anxiety and how those photographs oftentimes failed to overcome those distances," she says.
In February, Kunimoto will present a paper at the College Art Association's 2011 conference about people who have dressed as lamas and traveled in secret to Tibet, and how "transforming their bodies was part of the imaginative space of Tibet." She also plans to give a presentation in Hawaii at the Association for Asian Studies annual conference about her work with Shiraga Kazuo, and how her analysis can be related to other postwar artists.