Research
History PhD Candidate Examines Cosmopolitan Clubs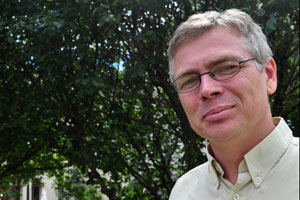 Allen Mikaelian, a doctoral student with a wealth of experience already under his belt, buckles down this semester to research the origins of "cosmopolitan clubs" in America.
The history PhD candidate has already written a New York Times best-selling book and has written, collaborated on, or ghostwritten nearly a dozen other works. He has extensive training in researching primary historical and governmental sources. He has also taught several undergraduate history courses at AU and had a hand in some new adult education initiatives in the past decade, including launching a new adult learning center in Southeast D.C.
Currently, Mikaelian is taking a semester off from these various projects to begin research for his dissertation, which will focus on "cosmopolitan clubs" of the early 20th century. In the very first years of the 20th century, the U.S. government arranged for students from around the world—from countries such as China or the Philipines—to study full-time at American universities, according to Mikaelian.
"There was the clear intent of wanting to Americanize these students, to teach them a certain set of American values, along with so-called 'Western' science," says Mikaelian. "I really wanted to see how these students reacted to this. Did they take those lessons?"
Soon after arriving in the U.S., many of these international students formed "cosmopolitan clubs," which also included immigrant students, such as refugees, Russian Jews, and Armenians. Additionally, some American students joined the clubs as well—"people who thought that their colleagues were far too provincial and racist," says Mikaelian.
What Mikaelian found in the course of his research is that many of the clubs formed "distinct ideologies" of anti-imperialism and anti-racism. This was especially true in the case of students from countries like India, which was then under an imperial power.
"They felt that imperialism, along with racism, was definitely incompatible with ideas of democracy," says Mikaelian. "They started to develop an ideology that was detached from nations. They thought that you didn't necessarily need a nation to be worthy of having rights. All of this was really running counter to a lot of the social trends in the U.S. at the time."
In addition, many of the club members wanted to help educate Americans and to dissuade them from being racist and prejudiced.
"They talk about this as being missionary work," says Mikaelian. "So they've turned a lot of the intent of the government programs on its head."
Mikaelian's best-selling book, Medal of Honor, published in 2002, profiles 11 members of the U.S. armed forces who have received the highest award that can be given to military personnel. Most recently, Mikaelian co-authored Fear Up Harsh: An Army Interrogator's Dark Journey Through Iraq, published in 2007. The book chronicles the experiences of Army interrogator Tony Lagouranis. Mikaelian spent "hundreds" of hours interviewing Lagouranis and, eventually, compiling all that information into a cohesive narrative.