Research
Kogod Professor's Paper Helped Snuff Out Some Cigarette Ads in U.K.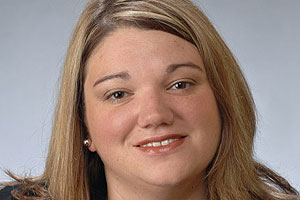 Children in the United Kingdom soon will be seeing a lot less of the Marlboro Man, thanks in large part to the work of Kogod School of Business professor Wendy Boland.
Boland was one of four authors of a paper that antismoking advocates in Britain used to help successfully push for a ban on point-of-sale tobacco advertising. The measure has passed both houses of Parliament. 
Earlier this year Boland and her colleagues published a paper in the journal Addictive Behaviors that argued cigarette advertisements do indeed prompt some adolescents to start smoking. The tobacco industry has long maintained that its ads aim only to entice smokers to switch brands, not to prompt nonsmokers to pick up the habit.

The study showed print advertisements for cigarettes and other products to a group of 7 to 12 year olds. Researchers asked the children if they understood the product, understood the brand, or understood both the product and the brand. When they were shown cigarette ads, the majority were aware only of the product, not the brand.
"Because they just focused on the product, everything cigarette companies were saying—commercials are just teaching people about brands—wasn't actually the case," Boland said. "They remembered things like Tropicana orange juice, but they didn't remember Camel cigarettes, they just remembered cigarettes."
Martin Dockrell, director of policy and research for the U.K.-based nonprofit Action on Smoking and Health (ASH), read the paper and used it to lobby for the legislation to ban point-of-sale tobacco advertising.
"This is a very illuminating study, it illustrates powerfully how even very young children respond to tobacco marketing," Dockrell said. "When the Health Act was in its committee stage ASH sent members a summary of this and a small number of other studies to illustrate the strong and rapidly growing body of evidence on how cigarette marketing works on children. When the bill returned to the whole house every [member of Parliament] was sent a briefing highlighting the new evidence in this study. The tobacco industry's main line of attack on the bill had been that there is no evidence that tobacco promotions lead young people to smoke. This study helped to nail that lie."

Boland's research centers on public policy, specifically high risk decisions. She focuses on vulnerable groups, such as low-income families, children, and people with disabilities. She's now examining how children deal with sales promotions.
"It's important for me to do research that has long-term benefits," said Boland, who came to AU in 2008.  Kogod's Department of Marketing was the perfect fit, she said, because of the priority it puts on socially responsible research.
"A lot of times the review process is so strenuous, you never know if anything is going to actually make an impact," she said. "So it was [exciting] to hear they were using that research, and that a bill passed that's really something I believe in."