Research
Marketing Professor Helps Eliminate Consumer Confusion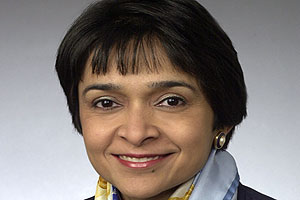 While strolling down the cereal aisle at the grocery store, customers are bombarded by different options. One box has a big red heart plastered on the front and claims that it lowers cholesterol. Another features a running man and pledges it's full of essential vitamins.
In any aisle of the market or convenience store, you can see similar claims posted all over food packaging, each brand trying to appeal to consumers by promising that it will make them healthier than the competition.
But which one should you choose? Which one is really "better" for you?
Kogod Professor Dr. Anusree Mitra is trying to find a solution to clear up consumer confusion in food package marketing.
"There's a proliferation of symbols and icons out there," Mitra, who serves as chair of the Marketing Department, explained. "More than likely, they are confusing the consumers."
Mitra was invited to join an Institute of Medicine committee of nutrition scientists and marketers reviewing front-of-package nutrition rating systems and symbols earlier this year. The committee is funded by Congress and supported by the FDA and CDC.
Mitra and her peers will meet for the third time on May 17 to further examine existing ratings systems and symbols to unearth what they really mean.
"We are identifying the criteria and scientific bases of these systems," Mitra said. "There are so many of them flying under the radar."
The U.S. government does not currently regulate systems used by manufacturers to apply these health labels to their products, making it hard to compare products "apples-to-apples." So, the committee is also exploring the possible benefits of creating a system regulated by the FDA – and how to ensure its effectiveness.
The UK has a regulated system of symbols based on a traffic light for their health labels, a method that's on the table for U.S. implementation.
This work fits with Mitra's past research on consumer perceptions of marketing information, such as advertising, nutritional labeling, and their policy implications. But unlike the academic world, her work here could have an immediate effect on the community.
"This is an opportunity to affect public policy very quickly," Mitra said.
So far the committee has heard from representatives of government agencies and study sponsors as well as the public. The members will hear from manufacturers as well to better understand how labeling systems were developed – and why theirs should be adopted on a grander scale.
Mitra says that the committee may even conduct consumer research at some point. Their charge was extended through May 2011 so that they could create a more extensive report that could tie in with FDA guidelines, to be issued to manufacturers next year.