Research
Professors' Research on Time Zone Challenges Shows Quality, Speed Suffer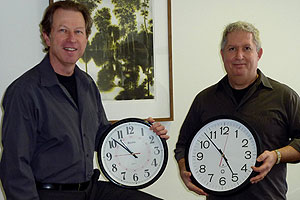 When the Behavioral Research Lab in the Kogod building expansion opened last spring, Alberto Espinosa and Erran Carmel were the first in line.  They had already been studying how knowledge workers coordinate workflow across time zones.  
Their experimental research on the challenges of working across time zones has already involved 250 participants and garnered 20,000 individual chat entries of their subjects' communication now being analyzed.
Both professors have done influential research on the topic in addition to real-world experience.
"After 13 years in international development supporting operations in Africa, Latin America, and Europe, I know the challenges of working in multiple time zones very well," Espinosa said.
"There is a myth that distance doesn't matter in working relationships anymore," Carmel added. "There is some truth to that - but time zones do still matter."
To simulate time zone differences in their experimental study, each team of two participants was given a single task: describe a map to the other person and ask him/her to draw it based on these communications. To simulate time zone differences, some pairs' work times overlapped completely; some partially; and some pairs did not overlap at all. Carmel and Espinosa measured production speed and accuracy to determine the team's performance. 
Their study found that as workers overlapped less and less, the maps' accuracy decreased. The relationship of speed to time separation was intriguing: speed declined when teams only overlapped slightly, but picked up again when there was very little or no overlap at all.
Due to these unexpected results, the researchers decided to extend the experiments, making the task more complex and more equivocal to see how teams respond when faced with a more complex, subjective assignment. The results from those experiments are still being analyzed, but preliminary investigation shows substantial differences across time zones and across task types.
Espinosa also worked on a multi-year survey study of more than 100 project teams at Intel Corp. that evaluated how technology could help the teams overcome the difficulties of working in different time zones. With Jonathon Cummings from Duke University and Cindy Pickering from Intel, he discovered that technology alone could not overcome time separation obstacles. The team's findings were published in the journal Information Systems Research.
Carmel's research on the topic has been ongoing for 15 years  and has involved extensive field work. He has studied global software teams, offshoring of information technology, and emergence of software industries around the world. His 1999 book Global Software Teams was the first on the topic and is considered a landmark in the field; his second book, Offshoring Information Technology, was published in 2005 and it is a popular book in graduate business courses on outsourcing.
Collectively with their respective collaborators, Carmel and Espinosa have probably accumulated more knowledge about time separation than anyone else. "Now we can put our wisdom together to write a book for practitioners in the marketplace," Espinosa said.
"This is a huge problem, but no one has focused on it because of the 'distance is dead' myth," Carmel added. "Today, we see knowledge workers doing a lot of timeshifting  to accommodate another person's schedule and interact synchronously. This has another outcome: that these people work in what I call 'scattered time,' spreading their work in clumps throughout the day and night." 
The researchers hope to answer questions about the optimal geographical setup to complete specific types of tasks, and how to maximize the effectiveness of an existing workplace configuration.