Research
Use of Fiction by SPA Professor Prompts Book with Students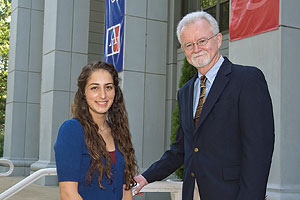 The thought of prison doesn't generally inspire a student to dance.
Then again, classes at the School of Public Affairs don't generally involve poetry, fiction, and art.
But Robert Johnson found an unusual way to engage students with the disturbing realities of life behind bars. The professor in the Department of Justice, Law and Society, who began using fiction in his courses several years ago, recently coedited a book with student Sonia Tabriz, SPA/BA '10, that features writing by AU students along with fiction by prisoners and other writers.
Lethal Rejection: Stories on Crime and Punishment is grim, poignant, and often chilling. The prisoners' tales provide a blunt, unvarnished look at what it is to live and perhaps die in a prison, the kind of insight that Johnson was trying to offer his students when he began, some five years ago, to use fiction in his SPA courses.

He often offers the option of replacing a traditional term paper or take-home exam with creative writing, and has students in almost every class do ungraded "free writes," a standard creative writing exercise, in response to readings and documentaries.   
Some of his students went on to publish their work in literary magazines. Tabriz is one of them. An honors student with plans for law school, she was so moved by a freshman field trip in Johnson's class to a high security prison, the Maryland Correctional Adjustment Center, that she began working extensively with Johnson. She now also serves as volunteer managing editor for BleakHouse Publishing, a small press Johnson runs.

Her visit to that prison prompted Tabriz to write largely true story for class. It now appears in Lethal Rejection, published by Carolina Academic Press.

"This book is fiction," wrote criminologist and lawyer Joycelyn Pollock in the preface, "but it is also a book about prison that can offer a type of truth that numbers can't."
That's precisely the point.  The unexpected departure into literature for a professor whose field is criminal justice came from Johnson's effort to provide his students with something he has also sought in his own research: a felt sense of what it means to live for years in a dehumanizing world where violence rules, kindness is weakness, and prisoners seldom end up better than when they entered.
"In my teaching, I try to give voice to prisoners and others on the fringes of society," he says. Much of his research has been based on extensive interviews and participant observation as he's tried to gain a deeper understanding of the prisoner experience, but a few years ago, he began feeling that using research alone in the classroom wasn't enough.

So he started sharing the writings of prisoners. He saw it as an extension of a good interview: a way to connect with the prisoners' own voices and points of view. The point wasn't to get students to sympathize with the prisoners or argue their innocence, but to add depth to their understanding of incarceration.

Students connected with his work, and Johnson decided to try his own hand at writing. It became, he found, a means to express personal opinions in a way that wouldn't be appropriate in scholarly writing. 

As he began publishing in literary journals, he also began to give students the option to do creative writing in class. One student, Dagny Von Ahrens, CAS/BS '10, even performed an interpretive dance as her final for his honors class, Deprivation of Liberty. In that same class, another student, Thais Miller CAS/BA '09, wrote a play reprinted with minor changes in Lethal Rejection.
The unusual approach to criminal justice "has drawn, I think, some of the best students in the university," says Johnson.
"A lot of times it's easier to understand people if you force yourself to be them and take on their voice," says Tabriz.
"People learn to take on a voice. That empathy is what I want students to get from my classes," Johnson says.

"It forces you to think about issues from the inside," adds Tabriz, who became fascinated with the issues Johnson tackled—and ultimately became a writer—after taking a General Education class.
Johnson founded BleakHouse Publishing as a small press with a focus on justice. He is also the author of two collections of original poems, also on justice issues, and has edited several collections of stories and poems. 

Many of the authors in Lethal Rejection have AU ties. In addition to Tabriz, Johnson, and Miller, it features work by Rachel Cupelo, SPA/BA '08; Ania Dobrzanska, SPA/MS '04; and Christopher Dum, SPA/BA '05, MS '08.
For Tabriz, the opportunity to envision the reality of incarceration has been life changing. Her goal is to go to law school and perhaps make a difference in a system she finds troubling and dehumanizing.
If Johnson has inspired Tabriz and other students, they have also inspired him. "Working with students so closely has given me a lot of energy," he says. "It makes my teaching just delightful."