Research
Uncharted Territory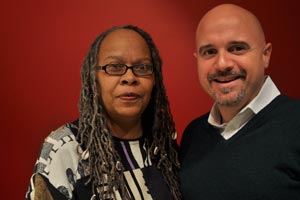 Bette Dickerson and Salvador Vidal-Ortiz, sociology professors, have written chapters recently published in two interdisciplinary anthologies about sexuality and race scholarship. While the two books cover different ground, each explores neglected topics in Black and Latino/a sexualities studies and responds to presumptions about these sexualities.
Dickerson's chapter, "Black Senior Women and Sexuality," is published in Black Sexualities (Rutgers University Press, 2010) and is coauthored with Nicole Rousseau, professor of sociology at Kent State University, a junior scholar whom Dickerson mentored during the co-authoring process. "Scant attention has been paid to Black senior women's sexuality, leaving an astounding gap in literature that Dr. Rousseau and I aim to contribute to filling," Dickerson says.
According to Dickerson, Black elder women in the United States are aging, female, and nonwhite in a society defined by youthfulness, patriarchy, and White hegemony. Scholars tend to analyze sexuality in terms of these latter characteristics without regard for the unique social, political, and economic contexts of Black American life, she says.
Vidal-Ortiz contributed two chapters to Latina/o Sexualities (Rutgers University Press, 2010). "Religion/Spirituality, U.S. Latina/o Communities, and Sexuality Scholarship" examines the rarely explored intersections between religion, Latina/os, and sexuality together.
The other chapter, "Revisiting Activos and Pasivos," is an interview with Vidal-Ortiz and three other members of the Latina/o sexualities board discussing the current relevance of the "activo/pasivo framework"—a construct that mostly white anthropologists produced in the 1960s to the 1980s to describe sexual relationships between Latin American men.
"According to that framework, if the man was the 'activo,' or the 'active,' who was penetrating someone else, he wasn't necessarily gay, or he wasn't socially stigmatized," says Vidal-Ortiz. "He wasn't gendered in any particular feminized way, at least publicly. The shame went to the pasivo, or the one who was penetrated."
Newer scholarship has raised issues with assumptions about identity equating behavior, as well as how the white anthropologists created this binary of activo/pasivo, according to Vidal-Ortiz.
While both anthologies assess the past and present of Latina/o and Black sexualities, they also outline what future scholars need to do to further fill the gaps that exist for Latina/o and Black sexualities scholarship, says Vidal-Ortiz. The anthologies are among several projects commissioned by the Ford Foundation to assess the state of the field of sexualities studies.