Research
Econ Grad Student Wins NSF Funding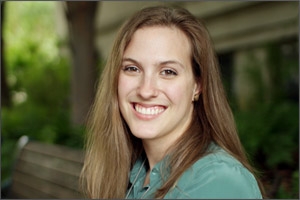 When Megan Fasules told her father, a medical doctor, that she was going to get her PhD in economics, he laughed. "He always joked that he wanted another doctor in the family," Fasules says. "He just wasn't expecting this kind."  
Fasules began her doctorate at American University in 2010, and she knew she wanted to focus on the intersection of health and economics. "There's a lot of change going on right now," she says. "Health economics is a newer field, and there's still work to be done there."  
Deciding on a dissertation topic that blended the two fields ended up as a combination between her interest and background in health and her work with her advisor, Professor Mary Hansen. Hansen is working on a pilot program that aims to digitize one percent of all US bankruptcy records.  
As Hansen's research assistant, Fasules started seeing a connection between bankruptcy records and individuals on Medicare. "A lot of individuals have medical debt," she says. "Observing that kind of bankruptcy debt gave me some real ideas. I wanted to analyze how health insurance affected medical debt, and I thought it would be great to be able to use the data we were collecting on bankruptcy."  
Hansen praises Fasules for her take on her research. "Megan has taken a very wise road to her PhD: she took an enduring interest of hers and melded it with an interest of her advisor," says Hansen.  
While she's got a great start on her dissertation, she knew she needed to collect more data. She applied for and recently received the National Science Foundation's Doctoral Dissertation Research Improvement Grant for economics for $23,000. "Getting the grant is a huge honor," says Fasules. "The National Science Foundation is telling me my research is of interest to someone other than me, which is very exciting."  
Over the next year, she'll travel to archives in Boston and possibly another city where she will take photos of relevant bankruptcy records from 1961 to 1973, then will have them sent to a vendor in India that will enter the data into a spreadsheet for her. Once her data collection is complete, she'll look for relationships between the implementation of Medicare and individual bankruptcy records. "This is a perfect experiment, because prior to 1966, when Medicare was instated, people over age 65 rarely had effective health insurance," Fasules says. "Medicare was the first attempt at compulsory health insurance in the US." 
Lately, she's been reading up on the history of Medicare and how it has changed since its inception. "I think they had good intentions," she says. "I hypothesize the program is a good thing in terms of personal bankruptcy, since we see a decline in bankruptcy rates after Medicare was implemented." She has found that generally, once Medicare was implemented, income did increase for the average petitioner. 
Fasules has seen some aberrations in her data, though. Medicare increased the personal bankruptcy rates in states with large proportions of elderly individuals. "But my data only includes 11 states so far," she says. "Once I have included all 50, I'm hoping that the aggregate data will prove my initial theory."  
Though she is looking at state-level aggregate data to analyze bankruptcy rates, she is most closely concentrating on Maine and Maryland to analyze other aspects of bankruptcy that are affected. "Maryland is part of the pilot program Professor Hansen is doing, and of the states available at the archives Maine has the highest proportion of elderly living there during the period I wanted to study," Fasules says. She'll take about a year to complete her research and dissertation.  
Hansen sees her student's research as vital to the healthcare debate. "Megan's research will contribute to the development of the health economics field, to our understanding of the links between social insurance and economic outcomes, and to policymakers considering the impact of new healthcare laws," she says.  
Fasules isn't sure where her dissertation will take her, but she's happy to be a part of the conversation. "My topic is very relevant today. President Obama has said that he's trying to get health policy implemented so that people don't have to declare bankruptcy if they're sick," she says. "And I definitely think that our health system has to change. I'm not sure how, but I look forward to trying to figure that out."