Research
Volunteer Experience Inspired Research Project, Conference Presentation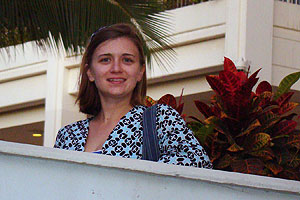 During the hectic final weeks of the fall semester, while the campus was deluged with rain and snow, Jamie Steinberg (MBA '11) traveled to Hawaii -- a trip she'd been planning for months, even before she arrived at Kogod.
Before you get too jealous, hear this: Jamie's destination was the Applied Business and Entrepreneurship Association International Conference in Maui, where she presented a research paper on recommended business strategies for an animal shelter where she volunteered.
Jamie's relationship with Animal Protectors of Allegheny Valley began when she was looking to get involved in her Pittsburgh-area community. She'd just returned home after living in the Bahamas for six years and was finishing her degree at Pennsylvania State University's New Kensington campus.
"I would pass the shelter on my way to school all the time," Jamie explained. "Everyone wants to help directly with the animals, but they said they needed my help in the office."
Animal Protectors had some obvious challenges: the building was too small, resulting in animals being turned away. And there was a big problem with volunteer retention, which demanded the board members' attention and pulled them away from strategic planning for the shelter's future. 
Jamie herself experienced it. "Early on, I was treated like I wouldn't be there long," she said.
Jamie turned her interest in marketing into a research proposal that she presented to a Penn State professor, who suggested she prepare her findings for a research fair. Jamie and her research partner received a small grant to fund their research.
Their recommendations focused on fostering public support for the shelter and building a community of volunteers who can see the results of their labor. 
"People really want to know that their help is making a difference," Jamie explained. "There are so many happy endings through adoption, and I don't think the shelter communicates that to the volunteers." They also recommended the shelter consider holding entertainment-based fundraisers targeted at women and families.
Jamie submitted the paper to the ABEAIC after graduating from Penn State in May; it was peer-reviewed and accepted for the conference. Faced with presenting at an international conference alongside doctoral students, Jamie asked for help at the Center for Business Communications, where she worked with Associate Director Nancy Sachs.
"I was really happy with the final results," she said. "My presentation was like two different pieces of work, compared to undergrad."
Sachs helped Jamie focus her presentation on results rather than her process. They overhauled her PowerPoint slides to be less text-intensive and more aesthetic, and they practiced using a conversational presentation style.
It worked; the judges praised her material, and one called her research very timely, as nonprofits are struggling in this economy.
Next, Jamie will apply for publication at a business and economics journal that the judges recommended. She's also hoping to volunteer at a local shelter; for now, she's got two pets of her own and a full-time MBA program to keep her busy.