Research
Kogod Professors Lead UN Global Compact Research in Conflict Zones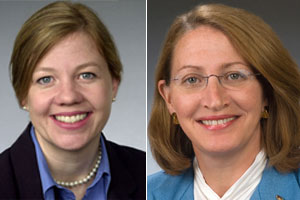 In countries where conflict is a way of life, businesses have the capacity to reduce or increase violence.  Recent research by American University's Kogod School of Business Associate Professor of International Business Jennifer Oetzel and Senior Associate Dean of Academic Affairs Kathleen Getz and in conjunction with the United Nations (UN) and International Alert explored the contributions business is making to reduce violent conflict and promote peace.
Oetzel and Getz surveyed 471 international firms in the United Nations Global Compact, a consortium of businesses that are committed to the UN's strategic policy initiative that encompasses ten universally accepted principles in the areas of human rights, labor, environment, and anti-corruption.
Oetzel and Getz discovered there are steps that businesses entering new markets can take early on to hedge against exacerbating an existing conflict. 
"We learned that businesses must take preventative measures to ensure safety," Oetzel said. "They can partner with local entities and gain a greater understanding of the nature of the conflict." Once operating in a conflict area, Oetzel and Getz found that firms can continue to protect themselves by effectively structuring internal practices and external relations.
Moreover, their research indicates that if firms manage their interaction with conflict well, business can actually help to reduce conflict.
These are promising findings for firms looking to enter new international venues.
"Human resource practices become especially critical in managing conflict," Oetzel said. "A firm that, knowingly or not, hires locals who are involved in the conflict, can cause overwhelming inter-office tensions. Also, there are times when the issue becomes who the firm does not hire—if a firm never hired members of a locally oppressed group it may unwittingly aggravate existing tensions."
In addition to improving hiring practices and employee interaction policies, Oetzel explained that the bigger picture is critical. "It's also important for firms to have an in-depth understanding of the conflict and knowledge of local players to conduct careful supply chain auditing," Oetzel said. "Otherwise firms may actually exacerbate conflict."
Sometimes, Oetzel added, a firm's lack of preparedness can lead them to partner with parties who are negative contributors to local conflict, thereby perpetuating the conflict.
Getz's and Oetzel's research at the intersection of international economic development and business reflects their professional and personal interests. Oetzel's interest deals with how businesses are affected by political context and Getz's expertise includes corporate social responsibility, business ethics, and international regulation of business. 
"Some of our results have surprised us," said Getz.  "Over time, we expect that this work will influence business behavior, public policy, and, most important, contribute to reductions in violent conflict."