Research
A Complex Taxonomy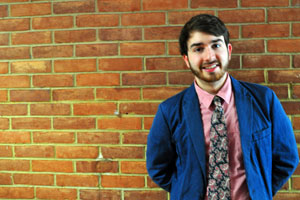 Last summer, Ryan Tanner-Read, CAS '10, set out to research a passion of his: the complicated and influential relationship between science and race in early America.
"I've always been interested in race as a concept," says Tanner-Read, a double major in history and literature. "Working on this project got me interested in thinking about the ways science defined but also problematized race in the late 18th and 19th century, and also the way that ideas about race influence science."  
During this era, scientists were largely interested in developing taxonomies for the continent's various plants and animals. Many used Native Americans as fact-gatherers and researchers for these projects—a practice based on their belief that Native Americans were "part of nature" and, thus, better equipped to navigate the wild.  
But Tanner-Read soon discovered that the scientists' taxonomies were not limited to the local flora and fauna. In his senior history thesis, entitled "The American Philosophical Society and the Indian Question: Race and Science in Early America," Tanner-Read uses archival materials from the American Philosophical Society's library in Philadelphia to argue that APS scientists also catalogued the Native Americans themselves. The paper was named best humanities paper by an undergraduate at the Robyn Rafferty Mathias Student Research Conference on March 20.  
"These scientists weren't interested in culture or how Native Americans lived," explains Tanner-Read. "They didn't have anthropology as a discipline or even the ideas of anthropology, so the ways they went about categorizing these plants were reflected in the mindset they brought to categorizing Native Americans." This practice helped establish a theoretical racial framework, he argues, that made it easier for White settlers to justify taking over Native Americans' land.  
At the same time, Tanner-Read posits, many of the same scientists appropriated Native American language into American language and identity, a practice that complicated the relationship between the two races. Botanist Benjamin Smith Barton created a Latin/Native American hybrid language to classify plants, as opposed to the European Linnaean system, because he believed Native Americans to be "part of nature." And linguist Peter Stephen Du Ponceau studied Native American language because he thought it was integral to the identity of the American poet.
"The American poetic was founded on this Native American identity, which I think is fascinating and ironic, because there was a systematic program at the government level of dispossessing Native Americans in every way," says Tanner-Read.
Tanner-Read will pursue his PhD in early American history next year at William and Mary College.