Research
Marketing Professor Presents Research on Food Choices to Medical Society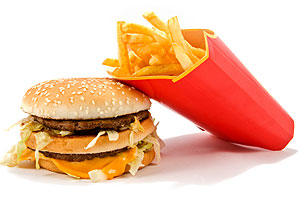 Kogod Professor Sonya Grier shared her ongoing research on food marketing to ethnic groups with almost 500 doctors, nurses, nutritionists, and public health advocates last week. The medical professionals were assembled at the annual meeting of The Obesity Society, the leading scientific group dedicated to the study of obesity.
Grier's presentation was derived from a paper, still in progress, that focuses on how researchers can properly measure targeted marketing. It's just one of several research projects related to food marketing that she is investigating with peers at AU and other institutions.
Grier is in the second year of research following two separate grants from the Robert Wood Johnson Foundation, the US's largest healthcare philanthropy.
Grier's first project is a five-year, $4.5 million grant to investigate strengthening the demand for healthy foods among African-Americans. She and Shiriki Kumanyika of the University of Pennsylvania School of Medicine are co-principal investigators of the grant, which was awarded to the African American Collaborative Obesity Research Network (AACORN), of which they are both members.
The academics are partnering with community organizations to conduct the research in an effort to empower their surrounding communities. Last year, they gave small grants to members of the AACORN network  that hail from the University of Alabama at Birmingham, Duke University Medical Center, the University of Illinois at Chicago, and the University of Maryland School of Public Health to conduct multi-site field studies and gather qualitative data on what leads people to make food decisions and how they respond to marketing efforts.
While continuing to conduct qualitative and quantitative research, the team is now beginning to plan a social marketing intervention that will make use of what they've identified as motivating factors. "We're not just focusing on individual behavior, but on the context in which individuals make choices," Grier explains.
Their goal is also to stimulate minority groups to demand increased access to healthier food where it is not currently avaiable. "Kids exist in families, which exist in communities," Grier explains. "Parents play a role in what their kids eat, and parents buy items based on what is available."
The researchers will develop a replicable campaign, and then select partner organizations to work with to disseminate it nationwide. The research collaborative  also develops policy briefs so their findings can contribute to  public policy.
Professor Grier is also in the second year of a grant she was awarded with School of Communications Professor Kathryn Montgomery from The Robert Wood Johnson Foundation's Healthy Eating Research program.
Grier and Montgomery are studying digital food marketing to children from a macro perspective with the Berkeley Media Studies Group, a public health media advocacy organization based in California.