Research
Dogs and Combat Stress Injury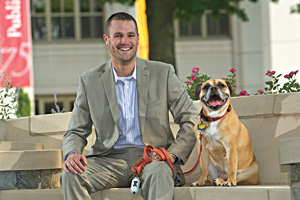 Troops in Afghanistan find comfort in bomb-sniffing dogs. Their enemies fear the hulking shepherds that escort soldiers on patrol and, more importantly, the dogs find bombs.
Cpl. Daniel Feeman, SPA/BA '11, who completed his Marine Corps service as kennel master for Marine One, found that working with dogs, even while under enemy attack, could reduce the impact of combat stress injuries or Post-Traumatic Stress Disorder (PTSD), the symptoms of which include sleeplessness, flashbacks, and suicidal tendencies.
Feeman put his hypothesis to the test in a research methods class.
When he broached the subject of PTSD with vets, many of them shut down. "Nobody wants to be labeled the guy who couldn't handle it," Feeman says.
However, those who revealed combat stress injuries spoke about lasting, positive memories of the dogs they worked with. Something about the dogs added a layer of emotional security, and there, Feeman believes could be a window for treatment.
Still, Feeman's results were anecdotal, inconclusive.
Speaking with Bruce Shabazz, a member of the Department of Defense's PTSD Taskforce, Feeman learned that other researchers' results corresponded with his own: the psychological benefit of working alongside dogs was unclear. In practice, the military use of the model had some benefit as compared with other treatment methods for PTSD, but it wasn't a slam dunk. Feeman and Shabazz agreed that further understanding would require narrowing the sample to those who worked 100 percent of the time with dogs.
However, all of Feeman's subjects said they felt better with the dogs present. "Not was better or thought I was better," but that they felt better.
For some, that vague sense might be a first step away from the blackness of PTSD.
"We know so very little about the brain and how it works and whether or not it's broken, and how to fix it when it is. Feeling is a huge step as far as mental health goes."

AU is among the top 20 percent of Military Friendly Schools in the country, according to G.I. Jobs magazine. Earning the distinction for the second straight year, AU was lauded for its participation in the Yellow Ribbon Program, which helps fund tuition expenses that exceed the G.I. Bill benefit for post-9/11 veterans up to $17,500 per year. The new AU Veterans Liaison Network also offers a one-stop-shop for vets seeking campus services.