Research
WCL Report Picks Apart Abuses in Md.'s Crab Industry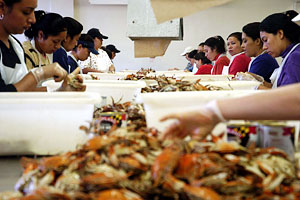 Lured by the promise of a paycheck, hundreds of Mexican women leave their impoverished villages each summer for the Eastern Shore: the epicenter of Maryland's historic crab industry. But for many workers, who enter the United States on temporary, H-2B visas, the land of opportunity is anything but.
A new report released July 14 by the Washington College of Law reveals myriad challenges faced by Mexican women in the crab industry, from low wages and erratic hours to sexual violence and safety risks.
"Picked Apart: The Hidden Struggles of Migrant Worker Women in the Maryland Crab Industry" was released by WCL's International Human Rights Law Clinic and Centro de los Derechos del Migrante, a nonprofit founded by 2003 WCL alumna Rachel Micah-Jones. Based on more than 40 interviews, the research traces trials faced by women throughout the migration process, including illegal fees charged by Mexican recruiters in order to obtain their H-2B visas, and paycheck deductions for knives, gloves, and other basic tools and safety equipment.
The Maryland crab industry depends heavily on the H-2B program, which allows U.S. employers to hire foreign workers for temporary, nonagricultural labor. In 2007, 56 percent of Maryland crab companies relied on H-2B workers, who processed 82 percent of Maryland's crab meat.
"This report gives voice to the Mexican women who are the backbone of the industry, offering perspectives that can shape current policy debates," said Jayesh Rathod, assistant professor of law, of the migrant women, who comprise 70 to 80 percent of crab pickers.
In addition to poor housing conditions — 55 percent of respondents reported serious problems with their rental housing, including sewage back-ups and inoperable stoves — the women also detailed their grueling work and low wages.
All of the interviewees were paid $2 to $2.25 per pound of crabmeat picked. In order to earn the federal minimum wage of $7.25 over the course of a 40-hour week, a worker earning $2 per pound must pick 145 lbs. of crabmeat per week, which requires handling more than 200 crabs each day. Women unable to keep up with the pace and earn minimum wage were often fired and — because the H-2B visa binds workers to a single employer — forced to leave the country.
Furthermore, only 17 percent of workers received formal training in what can be a very dangerous business. Almost all interviewees reported experiencing cuts on their hands and arms, which can allow a dangerous seaborne bacterium to infect the skin. A number of women reported either suffering from or witnessing a coworker suffer from the disease, which has a 50 percent mortality rate once it penetrates the bloodstream.
The report concludes with a series of recommendations aimed at reforming the H-2B program and improving conditions for migrants living and working on the Eastern Shore. They include:
extending Maryland's minimum wage and overtime protections to crab pickers and other seafood workers
implementing comprehensive, bilingual occupational health and safety trainings for H-2B crab workers
deploying bilingual health care workers to assess work-related injuries or other health concerns
educating H-2B crab workers about their basic rights as tenants in the state of Maryland
regulating recruitment practices and sanctioning employers who utilize recruiters that charge excessive or improper feeds to workers
reforming guest worker visas so that workers aren't tied to one employer, which will allow them to leave abusive working conditions
urging the U.S. government to ratify the international convention on the protection of the rights of all migrant workers and their families
The report, which is receiving significant coverage from news outlets across the country, is available here.