Research
History Grad Student Examines Theatre in Wartime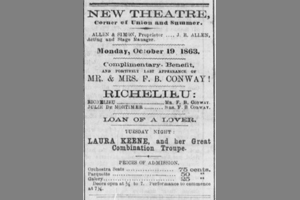 Kelly Johnson, history master's candidate '13, interned with the American Interest in summer of 2011. She wrote for one of their blogs, The Long Recall, which recounted what happened on each day of the Civil War in real time, 150 years after the fact. When researching for forthcoming posts, Johnson would comb through newspapers from the era for background material. "One of the things that struck me the most was how everyday life continued on both sides of the conflict," she says. "There were still advertisements for new fashions. People published recipes, announced job openings, and offered commentaries on every aspect of society, sometimes war-related, sometimes not. The war impacted every aspect of the day-to-day lives of Americans, but they were not afforded the luxury of ceasing to live those lives until the conflict had passed."
In these archived newspapers, Johnson came across discussions of theatre in both Northern and Southern publications, and as a theatre minor in undergrad, Johnson was particularly drawn to this information. "When it came time to choose my topic for my Research Seminar in U.S. History paper, I knew I wanted to look further into the non-military aspects of the lives of Americans during the Civil War," she explains.
She ended up submitting a condensed version of her paper, "Troupe Movements: Theater and the Crossing of Dividing Lines During the Civil War," to the 22nd annual Robyn Rafferty Mathias Student Research Conference on March 31. "I went into my research wondering if Confederates and Unionists were watching the same plays or if theatrical subject matter differed on the two sides," says Johnson. "I also wanted to know if actors crossed war boundaries, and, if so, how they were received. The war years were an interesting point in American theatre history, and the origins of certain aspects of modern American theatre can be seen in this time frame."
For her research, Johnson examined records of troupe movements and digitized Civil War-era newspapers, then combined her findings with what she read in existing research and commentary. She began with the fatal shooting of President Lincoln during a performance of Our American Cousin. "This forever solidified the place of theatre in the Civil War narrative," she says, "but the intersection between theatre and the war was made up of much more than this tragic event."
Professor Max Friedman, her seminar professor, encouraged the class to submit papers to the Student Research Conference. Johnson had presented as an undergraduate in 2008, so she was familiar with how the conference was run. "This year's conference seemed like a good opportunity to get some feedback on what I was working on," she says.
Johnson ended up receiving an honorable mention in the best professional presentation by a graduate student in the humanities category, which she shared with a history PhD candidate.