Research
Spring Conferences Showcase Student Research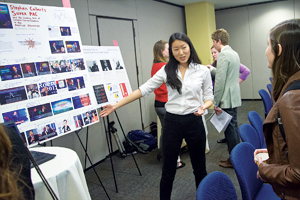 Top-notch student research conferences are a spring ritual at American University.
And prominent among several such events across campus was the 2012 Honors Capstone Research Conference, where judges narrowed 80 submissions down to 40 conference presentations.
Michael Manson, director of the University Honors Program, made a few changes to this year's April 11 event to approximate the experience students will encounter when they submit their work to professional conferences and journals. Student abstracts were evaluated by a blind selection committee, and presentations were evaluated by judges with expertise in the field.
One of the judges for Kogod School of Business presentations, for example, was Kogod's dean, Michael Ginzberg.
Among other changes Manson introduced: having selection committee members evaluate submissions in their fields, allowing them to judge abstracts by the quality of their claims and methodology.
"We are all of us involved in the process of discovery," Provost Scott Bass said at the Honors Capstone conference opening. "This is a certain kind of university; it's a research university. And what that means is your faculty are engaged in exploring new ideas, writing the books, the articles, the studies that then will be used by others around the world. So you have the opportunity to be mentored, to be guided, to work with the best of the best."
Among students (all seniors) with winning projects were
Best Oral Presentation in the Arts and Humanities: Jordan Hillman (CAS/art history), "Evolutionary Theories: Picasso's Rose Period Women"
Best Oral Presentation in Business: Casey Petroff (CAS/mathematics and economics), "An Examination of Crude Oil Benchmark Pricing"
Best Oral Presentation in International Service: Kevin Gatter Espinosa (SIS/international studies), "Isla de Pascua or Rapa Nui? Easter Island and the Prospects for Independence"
Best Oral Presentation in the Social Sciences: Margaret Fowler (CAS/ economics, SIS/international studies), "Assessing NERICA Adoption and Impact in The Gambia"
Award winners and honorable mention recipients will be recognized at a May 11 convocation.

Array of Conferences
In addition to the Honors Capstone event, AU has a wide array of spring student research conferences.
On March 31, the College of Arts and Sciences hosted the 22nd annual Robyn Rafferty Mathias Student Research Conference, which had 141 entries from undergraduate and graduate students. Winners from among the papers, posters, and performances at the conference receive cash prizes for their presentations, and winning graduate students also get a conference travel award.
Award categories were professional presentations, oral presentations, posters, and performance. (For a list of winners, see CAS's Mathias conference web page.)
On April 30, the School of Public Affairs Awards Ceremony will recognize top students and winning presentations. SPA's fourth annual undergraduate research symposium was held April 20. The event was open to any undergraduate student enrolled in an SPA course during AY 2011–2012.
At the 15th annual School of International Service Undergraduate Research Symposium, held March 20, students presented research papers and displayed posters on a wide range of topics, from views of German youth toward the Turkish minority to the meaning of China's increased military spending to vulnerabilities in the Saudi energy infrastructure.
And at the second annual University College Research Symposium, held April 4, more than 130 first-year students presented their work.