Achievements
Greener Pastures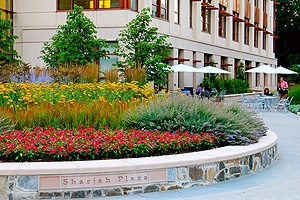 Sustainability is a top priority for American University, and a landscape project that surrounds the School of International Service building has recently been recognized for its eco-friendly design.
The Sustainable Sites Initiative (SITES), a partnership of the American Society of Landscape Architects, the Lady Bird Johnson Wildflower Center of the University of Texas at Austin, and the United States Botanic Garden, named the grounds around the SIS building one of eight new projects to be certified for sustainable construction, design, and maintenance of built landscapes.  
This is an impressive distinction for SIS and the university. Selected along with more than 150 other sites worldwide to participate in the SITES pilot program, it's one of only 23 projects to earn SITES green certification. AU joins Duke University and Grand Valley State University as the only three college campuses to receive a 2-star rating.
The SIS landscape area includes a Korean garden, an edible herb garden, and a beekeeping site that helps pollination. Rainwater that hits the roof of the building is recycled, and water on the grounds is reduced and cleansed before being released into the city drain system. Landscaping waste produced from the site as well as the organic waste produced from the building is composted to support the university's zero waste goal.
"I think it's a great feather in our cap. It's another sign that AU is really committed to being sustainable. This experience expanded our thinking and changed the way we approach site projects on campus," says Mike Mastrota, a university landscape architect. "The certification is a culmination of many hours of research and documentation that is required to submit the project credentials."
In 2004, the American Public Gardens Association designated the university campus a public garden and arboretum. In 2010, AU made a commitment to become carbon neutral by 2020.