Research Success Story
Law Professor Challenges Prosecutors' Power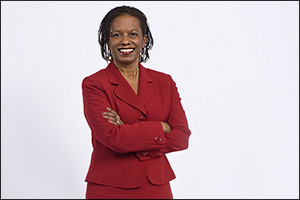 Who is the most powerful person in the courtroom?
Most people would assume it's the judge. But it's the prosecutor who decides whether to press charges and what punishments to seek. "The judge wouldn't even be in the courtroom if the prosecutor hadn't brought the charges," says Angela Davis, a professor at American University's Washington College of Law and winner of AU's 2009 faculty award for Outstanding Scholarship, Research, Creative Activity, and Other Professional Contributions.
Those decisions are made quietly, behind close doors. The reasoning that goes into it doesn't need to be revealed, and misconduct, when it comes out, is seldom punished, she says. That can open the way for discrimination.
Davis is the author of Arbitrary Justice: The Power of the American Prosecutor (2007), as well as coeditor of Trial Stories (2007) and the fifth edition of Basic Criminal Procedure (2009).
She has campaigned through her scholarship for ethics reform and transparency in prosecutor decision making. Her work, well regarded in the legal profession, gained even greater prominence when the unjust rape charges against lacrosse players at Duke University were exposed and district attorney Mike Nifong was removed for misconduct.
The case highlighted her argument for collecting statistics and reforming ethical rules, and Davis was profiled in Time magazine. But to Davis, the case also revealed a disturbing reality she observed during her 12 years as a public defender. Injustice can happen to anyone, but when victims are black or poor, the world doesn't always notice.
"I did have cases where I believe prosecutors acted vindictively, cases where whites were treated better either as victims or as defendants," she recalls. "I'm in no way suggesting this happens all the time, or that it's everyone, or that prosecutors are intentionally or consciously discriminating on the basis of race. I don't think that happens very often in our society any more. But I do think there is a lot of unconscious bias—those deep-seated views on race that influence the way we act, think, talk. Prosecutors are not immune from that, just as no one is."
Davis's scholarly work reaches far beyond the classroom and the academic library. Her professional outreach includes serving on the Board of Trustees of the Peter M. Cicchino Social Justice Foundation, the Frederick Douglass Jordan Scholarship Board, the Southern Center for Human Rights, and the Sentencing Project. The university has also honored Davis for inspiring a new generation of law students through her scholarship, activities, and passion for justice.
For Davis, work is more than a profession, it's a calling. "I think of the quote, 'To whom much is given, much is expected,'" she says. "That's how I try to live my life."